COVID-19 policies of high risk sports
This year, fall sports teams at NDB were able to begin their season as regularly scheduled, but new mask requirements have been implemented to sports practices. The COVID-19 rules vary, depending on the risk level of the sport. The sports considered to be "high risk" are water polo, cheer and volleyball.
Sports qualify as high risk if all the players are within six feet of each other or the sport is indoors. All high risk sports are required to test once a week in the Moore Pavilion for COVID-19, but being tested will not replace or change the masking and social distance rules.
Water polo is an outdoor sport, but is considered close contact, and being in the water makes the players unable to wear masks.
"Water polo is considered high risk because we are not able to wear masks and get very close to other players while playing," said sophomore and varsity water polo player Mallory Moore. "I feel fine not being able to wear masks since we are in the water, I don't want to get waterboarded. It would be unreasonable to wear masks since we are in the water."
"To stay safe for my sport, I am testing for COVID weekly and monitoring symptoms. I also make sure to wear masks around other people. I feel fairly safe while playing water polo. We play in chlorine, which I'm pretty sure kills lots of germs," Moore explained.
Cheer is another close contact sport and is considered high risk.
"I think it's considered high risk because we're close to each other. A lot. And, like, if we're stunting, we're kind of right next to each other, and we're like falling on top of each other… And we are breathing next to each other and being within six feet," said Megan Cabral, a junior member of the competition cheer team.
"
I think these sports can thrive without worrying about whether or not they're going to get COVID."
— Jason Levine
"As far as I know, I'm not 100% sure. For example, if we're doing games, I don't believe we have to wear masks. As far as competitions, while we're inside, like, definitely while we're preparing or in a hotel or something we have to," Cabral continued. "Yeah, personally, I think [the COVID-19 rules are] a nice thing to have and… With COVID going around, you know, I honestly don't mind wearing a mask that much… It doesn't bug me, so I'm fine with it. And, I think, it's like, nice to keep people safe and help, like, stop the spread"
Volleyball is an indoor sport as well, making it high risk.
"We are required to wear masks during our games and practice. Everyone in the gym wears one. There are exceptions, like drinking water and taking a breath, where we are allowed to pull down our masks temporarily," said Ciara Mangan, a junior and varsity volleyball player.
"Volleyball is considered a high risk sport because we are indoors, we are in close proximity to the opposing team and we share a ball," Mangan continued. "I feel that compared to last year, the risk of playing volleyball is much smaller than it was because there are more people vaccinated, including myself. I do think that the risk is worth it because I would hate to not be able to play again."
When asked for a comment on these policies, Athletic Director Jason Levine said, "We are excited that they're back on campus, and we believe that, if we continue to wear masks and make all smart decisions, that I think these sports can thrive without worrying about whether or not they're going to get COVID."
He added, "And, so far, all three programs have done a fantastic job following the policies set forth by NDB's Administration and the Athletic Department."
Leave a Comment
About the Contributor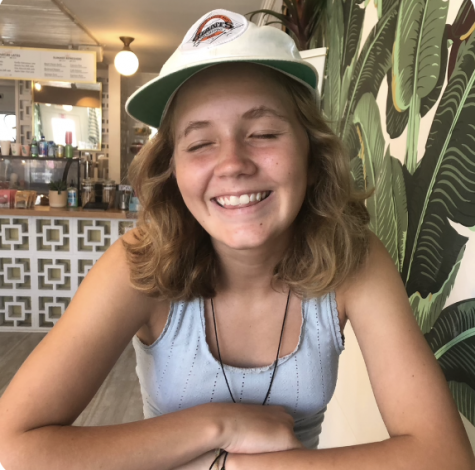 Emma Callicott, Sports Co-Editor
Emma Callicott is a Sophomore at NDB. This is her second year taking journalism and she is very excited to grow as a journalist. She can't wait to write...