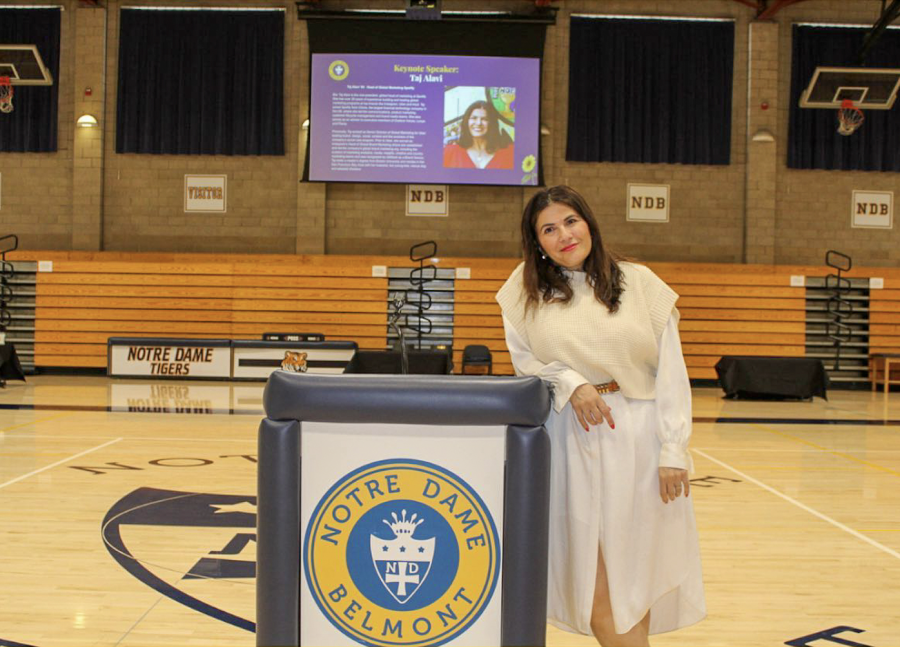 Alumnae Career Day: Taj Alavi '94 and others return to campus and share their career journeys
On Wednesday, January 25, NDB welcomed Spotify's VP, Global Head of Marketing Taj Alavi, '94 as the keynote speaker for Career Day. In her more than twenty years of experience, she has led global marketing at companies such as Uber and Instagram, and she attributes much of her success to her experience as an NDB Tiger.
During her time in high school, Alavi served as both the student body president and the class spirit commissioner, where she took pride in her organization of Aquacades. "I credit so much of my marketing career to running Aquacades … If you can get fifteen year olds to do Aquacades, you can sell the world of anything," said Alavi. 
After she graduated from NDB, Alavi attended the University of California, Davis where she planned to study medicine. She later realized that she had a greater interest in the business of advertising and marketing, so continued on to Boston University where she earned her Master of Business Administration. 
"There is no one path … Be you completely, and the world will open its doors because you are always who you are, not who anyone else thinks you are," continued Alavi.
Throughout her presentation, Alavi emphasized several keys to leadership, three of them being working together with others, valuing different perspectives and allowing others to feel heard. In addition, as a female leader in the business world, Alavi stays true to her values and turns to her family and friends for support in order to stay confident in her career. 
Taj Alavi's hard work and determination as a female in the business field has inspired the young women of NDB and the community remains thankful for her visit. 
"She was able to give all the girls a lot of motivation and knowledge to know that, in a world that is mainly male-dominated, with hard work and passion, they are able to do anything they want," said junior Caitlin Degnan.