Fly like a Monarch, bite like a Wildcat
NDB is well-known for its sisterhood and school spirit, and "sister classes" combine both of those. Each year, the freshmen are aligned with the juniors and the sophomores with the seniors to build community and encourage interactions between different grade levels.
Throughout the year, the classes are tasked with working together as a team in various events to earn spirit points for themselves and their sister class. This includes rallies, fundraisers, spirit week, and most importantly, Aquacades, the biggest spirit event of the year. Other than spirit events, sister class activities are an opportunity to bond with students of different ages. The older sister classes are especially important to the younger classes because they serve as role models who guide their younger sisters through the ups and downs of high school. They are great resources for underclassmen to go to for help not just academically, but also socially.
The start of junior year is always exciting because it is the transition from being an underclassman to an upperclassman, or a younger sister to an older sister. After a successful last two years with the Knights, my fellow Wildcats and I are excited to welcome the class of 2025 Monarchs as our new younger sisters.
"I am excited to be sister classes with the Monarchs for the next two years, especially based on the first rally," said junior Sophia Rask after being asked about her experience with the freshmen so far. "They showed us so much love and placed higher than the Sophomores, so if they were this successful in the first rally, I'm positive this will be a great next two years. I also love when they come to us for advice at school because it strengthens our bond which is the point of sister classes."
"
 The sisterhood of NDB to me is really welcoming and friendly. The first sister class event was really fun and I really enjoyed it and am excited for more.
— Ava Baldi
For us juniors, being able to support our younger sisters is so fulfilling because we know exactly what it is like to be in their shoes. The first few weeks of high school can be exciting, but intimidating and overwhelming, which is what makes the sister class system so beneficial.
In the past few years, NDB has assigned each incoming freshman a personal junior big sister who they are to keep in touch with for the two years that they are students together. Although the system was interrupted due to the pandemic, it is back in swing this year. The school has several events planned throughout this year that encourage pairs of sisters to get to know each other. The first one, a meet and greet and ice cream social, took place earlier this month on September 8. Not only did the juniors and freshmen partake in the event, but so did the sophomores and seniors to make up for the lost time last year. The event was a success among all of the NDB students, and I am looking forward to seeing my classmates connect with their freshmen just as our older sisters had done with us two short years ago.
Freshman Ava Baldi said, "After my first few weeks of school, I really like having the juniors as my sister class because I know most of them and they are a really fun class. The sisterhood of NDB to me is really welcoming and friendly. The first sister class event was really fun and I really enjoyed it and am excited for more."
I know that the Wildcats and I will do the best we can to teach our younger sisters everything there is about the NDB community this year, and it is clear that the enthusiasm from the juniors and freshmen about being sister classes should make for an exciting next two years.
Leave a Comment
About the Contributors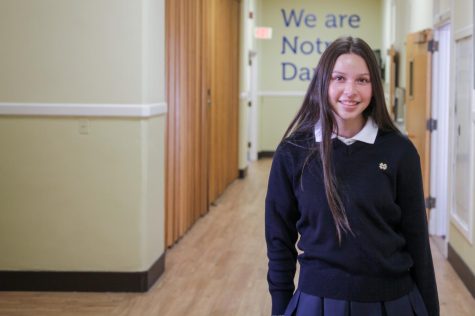 Molly Phan, Editor in Chief
Molly Phan is a senior at NDB and it is her third year with The Catalyst. She was involved in the journalism club her sophomore year and served as the...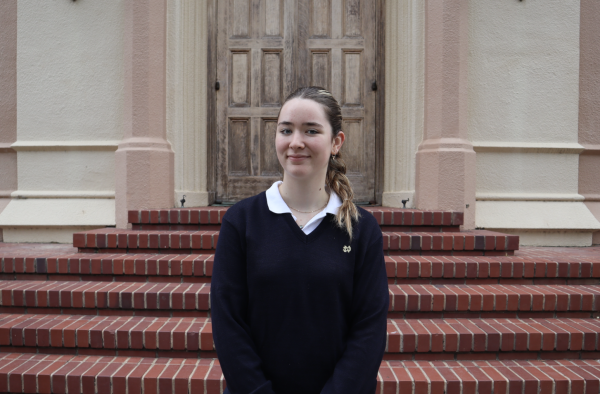 Francesca Arbelaez, Senior Editor
Francesca is a Senior at NDB. This is her third year taking Journalism and she's excited to participate in the Catalyst in the 2023-2024 school year. She...