Student work to be featured in upcoming SFO art exhibit
Martha Anne Kuntz, Visual and Performing Arts Department Chair, is excited to announce that her students' work will be featured in an upcoming art exhibit at the San Francisco International Airport.
Earlier last year, Kuntz designed an art project that her students could do from home. It was called "The Luggage You Carry." Each student was to make a suitcase and, in it, pack what they would take with them if they had to leave immediately. The items were to be meaningful and symbolic. So, Kuntz pushed her students to think out of the box and come up with something that represented their most cherished memories.
Through her connections at SFO, Kuntz was able to meet with Curator of Exhibitions Nicole Mullen about potentially hosting a show that featured student work. Mullen loved the idea, and everything fell into place. The art show will be held at SFO during the months of July through October in 2022.
Current sculpture students are just beginning their projects, which will be photographed and showcased professionally in the airport.
There are already sculpture students from last year who have already completed their projects, and theirs, too, will be included in the exhibition.
Photos of the projects will be displayed, so Kuntz's plan is to pick a handful of student projects and invite the school's photography students to take photos of them. They will then be shown in the exhibit, giving credit to both the artists and the photographers.
"
"My piece represents who I am as a person and the different aspects of my personality and just like what makes me who I am.
— Lauren Pope
"There are eight giant frames and so they frame it and do the whole bit," said Kuntz. "So, it's very professional with the student names and with an explanation of the school and the project itself."
Sophomore Kaylee Ellerhorst is one of the students who already completed "The Luggage You Carry project." She did her project on the importance of friendship and each item inside the suitcase represented the relationships between her and her friends.
"I created a chain that represents the strong bonds friendship has. I created a lightbulb that represents the bright ideas you can get from your friends," says Ellerhorst. "I also created a shield which represents how your family and friends can shield you from the bad things in life."
Another sophomore, Lauren Pope, designed her own rendition of the suitcase.
"My piece represents who I am as a person and the different aspects of my personality and just like what makes me who I am," says Pope. "I have flowers that represent how I've grown, a braided rope that represents my family and how they support me and just like little pieces of myself."
Ellerhorst and Pope are both hoping that their projects on friendship, family and self-love will be chosen as one of the projects Kuntz selects to feature at SFO.
"I would feel very happy and proud because I worked really hard on that project," says Ellerhorst. "It would be really cool for people to be able to see it and see what I created."
Both of them felt very accomplished with the work that they had done.
"I would feel very flattered that Mrs. Kuntz thinks that my piece is good enough to be shown in the airport," says Pope. "I would be just happy because then a bunch of people would get to see my work."
These girls are just two students out of many who were able to express their values and personalities through this luggage project. Each student worked very hard and continues to be very passionate about their pieces.
The SFO art exhibit is a once in a lifetime opportunity for NDB and is definitely something both Kuntz and her students should be very proud of. The community looks forward to supporting and seeing the reward of student's hardwork and dedication, in the upcoming summer of 2022.
Leave a Comment
About the Contributor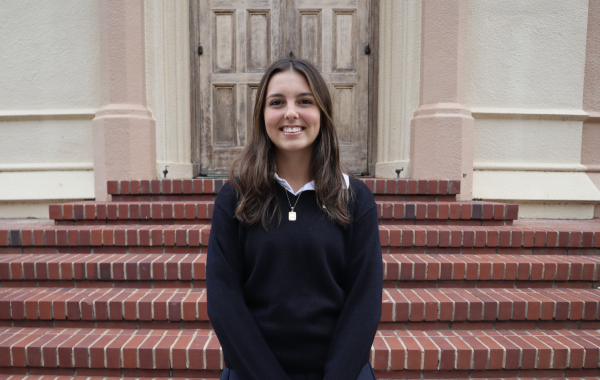 Mia Muzzi, Editor in Chief
Mia Muzzi is a senior at NDB and is in her fourth year of working for The Catalyst. She spent her freshman year as a Staff Writer, then during her sophomore...