Winter sports check-in: Season is in full swing
Hang on for a minute...we're trying to find some more stories you might like.
The NDB basketball and soccer teams are headed into the last games of their seasons.  With one less than a week left in January, the JV basketball team is 7-6 overall, while the varsity basketball team is 9-6 overall.  The JV soccer team is 0-6 overall, while the varsity soccer team is 10-3 overall.
This year's JV teams started their seasons with several freshmen added to their ranks. There are 18 girls on soccer and 12 of them are freshmen.  There are 11 girls on basketball and 2 of them are freshmen.
Over winter break, the JV soccer team played against Burlingame HS. The final score was 0-1, Burlingame. The JV soccer team is still working for a win. The captains on the soccer team are sophomores Xanthe Barton, Rachel Giovando, and Amanda Orchard.
Sophomore Elizabeth McGuire feels the main challenges the girls are facing include getting to know each other, learning their different playing styles, and catering to their different skill levels. McGuire feels that having 12 freshmen on the team will definitely be beneficial for the upcoming years.
The JV basketball team played three games over the break: One against Carlmont HS where Carlmont won, 13-27. Another against Terra Nova HS, where NDB won, 35-34.  NDB also won against Ygnacio Valley HS, 41-28.
Captains Avery Stump and Cali Perazzo have led the team to their record of 6 wins and 5 losses.
When asked about how she feels the season is going, Perazzo said, "So far, I think the season is going great! We have a really strong team with a lot of great girls who really love to play."
Sophomore Ally Lawrence says the hardest challenges are learning to play with each other and battling through the tough games. She thinks the two freshmen on the team will bring a lot of new talent. The team has a positive energy and high spirits.
Despite the difficulties, both of these teams are thriving in their ability to stay positive and keep working even after a loss.
Both JV soccer and JV basketball teams have the potential to communicate well and keep each other motivated. They are constantly bonding as a team and encouraging one another, and look forward to the upcoming games.
About the Writer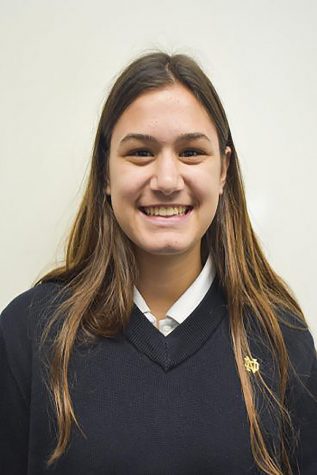 Shay Levy, Assistant Sports Editor
Shay Levy is a Junior at Notre Dame High School Belmont. She is on Student Council and writes for the NDB Catalyst. She plays soccer and has been playing...