Hispanic Heritage Month
"
"It is a month of recognition for our culture. It gives a glimpse of our everyday lives [for non-Hispanic] people who don't get the experiences that we do.""
— Kennya Olguin
This year's annual National Hispanic Heritage Month was celebrated from September 15th to October 15th, 2020. American citizens with Hispanic heritage have been officially honored by the government since 1968, when President Lyndon B. Johnson passed a bill into law that created a National Hispanic Heritage Week. It was not until 20 years later, in 1988, that President Ronald Reagan transformed the week into an entire month.
Due to current conditions of the COVID-19 pandemic, recognition of Hispanic Heritage Month was pushed aside by many. 59.8 million people of Hispanic descent live in the United States, many of whom have a lot of pride in their respective countries' cultures, traditions, and languages.
"As a Hispanic, National Hispanic Heritage Month is very important for me, my family, and the Hispanics in my community," said NDB junior Kennya Olguin. "It is a month of recognition for our culture. It gives a glimpse of our everyday lives [for non-Hispanic] people who don't get the experiences that we do."
This year, big celebrations of Hispanic culture were cancelled nationwide, and schools were unable to honor Hispanic Heritage Month through activities like cultural fairs or screenings of Spanish-speaking movies.
"Celebrations were definitely pushed aside this year," continued Olguin. "During Hispanic Heritage Month we [usually] go all-out with the celebrations. There's festivals all over the Bay Area dedicated to celebrating, but sadly I didn't get to go to one or celebrate at home with family [this year]."

Loading ...
The NDB Spanish Department, however, still educated students on Hispanic Heritage Month despite the inability to be on campus. "We had an assignment where we picked a news article in Spanish," said NDB senior and Spanish IV student Chloe Powell. "Then we would present the article and what we learned from it, then listen to each other's news articles. [All of the articles] were about Hispanic Heritage Month."
Due to the proximity of Hispanic Heritage Month to Día de los Muertos, a traditional Mexican holiday honoring the memory of loved ones who have died, the NDB Spanish Department and I Am Diverse Club have simultaneously honored both occasions.
"[In class], we made Pan de Muertos, which is a bread that is traditionally eaten on Dia de los Muertos," continued Powell. "We have also been reading a lot about La Catrina [A female skeleton dressed in bright clothing who is an iconic symbol of Día de los Muertos]."
Finally, the I Am Diverse Club also created an annual ofrenda in order to celebrate National Hispanic Heritage Month here at NDB, and to also grant the entire school community the chance to honor their lost loved ones.
About the Contributor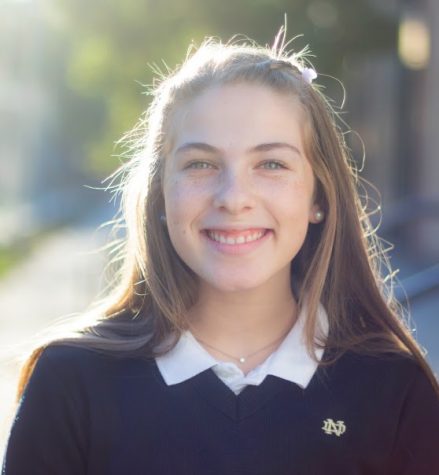 Amelia Kyle, Editor-in-Chief
Amelia has been a member of The Catalyst staff since 2018. She served as the co-editor of the Arts & Life section from 2018-2019, Managing Editor from...