Varsity Mock Trial team heads to county playoffs for first time
After extensive preparation and hard work, the Mock Trial team has successfully completed their first three regular-season trials against other teams in the southern region of San Mateo County. After facing fierce competition like Crystal Springs, Carlmont, Serra and Hillsdale, the Varsity team is now moving on to make history as the first NDB Mock Trial team to move onto the regional semi-finals after finishing the regular season in second place. 
Along with a successful run from the Varsity team, the Junior Varsity team worked incredibly hard to dominate the courtroom and end the season with a third place finish. While they were just one spot away from moving onto the JV championships, their work was still incredibly impressive and did a fantastic job representing our school in this competition. This is the first year where both NDB Varsity and JV Mock Trial have finished in the top three places within their respective divisions. 
The Mock Trial team is organized by Varsity and JV, with Defense, Prosecution, and Pre-trial roles for the students to fill. The goal for the students participating in Mock Trial is to hone their public speaking skills, learn how a trial works, and work on their argumentative and analytical skills by dissecting the case. 
Each year, the cases switch between civil and criminal, and this year's case revolves around the fictional murder of Taylor Matsumoto, the leader of Parents Against Autonomous Driving, an organization specifically designed to speak out against the dangers of autonomous vehicles. The defendant (or alleged murderer) in this case is Bailey Matsumoto, a woman who put her life savings into starting a company producing autonomous technologies, and also just so happened to be Taylor's wife. 
Senior Annika Pajarillo has been a member for four years now and is reflective on her experience over her high school years. She is a trial attorney, which has been her role every year. 
"I'm feeling a lot better than I have in the past three years," Pajarillo said. "And it's really reassuring me because it's going to be my last year."
Senior Elizabeth Mendoza is also a long-time member of the team and plays the defendant, Bailey Matsumoto, in this year's case. 
"We've been working all season since the beginning of October," Mendoza said. "We've had a lot of time to get the case. Our witnesses have been working with their attorneys very closely." 
Mock Trial meets twice a week for two hours and requires outside dedication from members to ensure that they are prepared for their upcoming trials. The trials are about two hours long and take place at the Superior Court of California, San Mateo County, in Redwood City. 
The team is led by two coaches, English teacher Adam Currier and Social Sciences teacher Jonathan Tomczak. Their role is to guide the preparation of the case and help the students structure their time while allowing them to take the brunt of the responsibility for themselves. Their practices are structured with one-on-one time between team members and are supplemented with scrimmages from other schools. 
Currier has been the coach for six years and is very excited with the promise of this year's competition season. "Preparation has been going well. We have a very stable roster this year, which has been nice," he said. "Not a lot of movement in terms of losing people." 
Tomczak is in his second year of coaching the team and his first time handling a criminal case with the team at NDB. 
"It's a more interesting case for the students," he said. "It has more interesting issues for us. So, it's a really good case that deals with a lot of current relevant issues." 
Something different about the 2019-2020 mock trial season is the implementation of they/them pronouns for one of the characters within the trial. Currier felt that this new addition to the case packet was very supportive for members of the community who are non-binary or otherwise do not use her/him pronouns. 
"They've purposely built in using 'they' and 'them' as pronouns," he said, "And, looking for ways to be even more non-binary and their representation which I think shows great support for everyone who wants to be involved with mock trial."
The 2019-2020 Mock Trial Team has done much to make our school proud, and we wish them the best of luck as they head into the playoffs.
About the Writers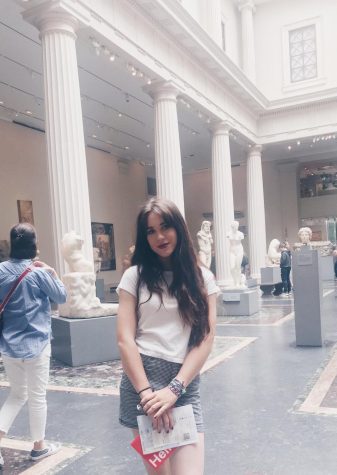 Caroline McCoy, Staff Writer
Caroline McCoy is a senior at Notre Dame High School, Belmont who is one of the staff writers of the NDB Catalyst. She has always had a passion for writing...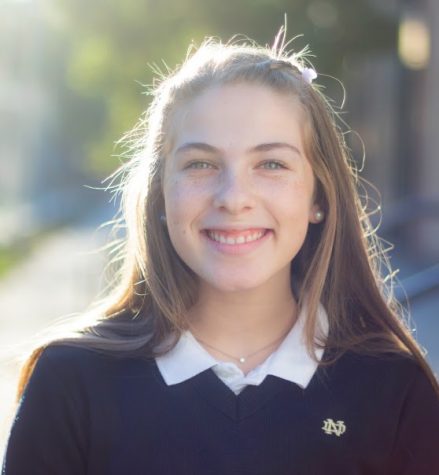 Amelia Kyle, Editor-in-Chief
Amelia has been a member of The Catalyst staff since 2018. She served as the co-editor of the Arts & Life section from 2018-2019, Managing Editor from...