Cross country team welcomes new coach
Kristi Rossi begins her first year at NDB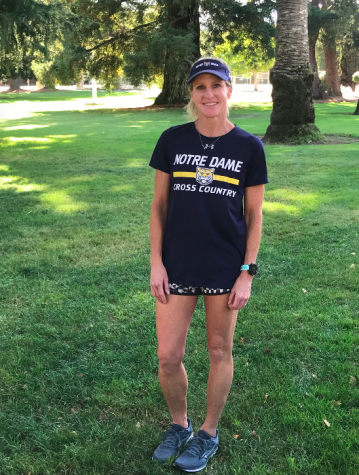 This year, the NDB Cross Country team has a new coach! Kristi Rossi will be stepping in to lead this year's group of runners through competitive races and practices that push each athlete to run further and faster than they've gone before. Rossi herself is an extremely talented and accomplished runner. She has run numerous marathons including the Boston marathon and the Big Sur marathon. The Catalyst sat down with Coach Kristi to talk to her about her experience so far and what she hopes to accomplish this season. 
Q: What made you want to come to Notre Dame?
A: I love working with teenagers and I love running. 
Q: How do you like being a part of NDB athletics so far? 
A: I'm really enjoying my position with NDB, the girls have been so much fun to work with. I also really like the NDB community and how athletics are such a big part of the school. 
Q: What are your goals for the team this season?
A: My goals are for each team member to run to their potential, and have improvement         
from their times from last year or over the season on courses we'll repeat. I would like us to qualify for CCS, and hopefully have at least one state qualifier. 
Q: What is your favorite memory with the team so far? 
A: My favorite memory with the team was our beach trail run along the cliffs in Santa Cruz. 
The team will be having their first race on September 21 at the Farmer Invitational in Hayward. 15 runners will be competing in Varsity, JV, and Frosh/Soph races. For the newcomers, it will be their first time running under the pressure of a race, and returning athletes are hoping to improve upon their times from last year. All of the runners are very excited for the upcoming season with their new coach.