ASL silent lunch table invites a different kind of conversation
During lunch this semester, a table in the dining room has been reserved to educate students, faculty, and staff about Deaf culture. The "ASL silent lunch table" provides an opportunity for American Sign Language (ASL) students to practice their signing skills as well as allows others to be exposed to and try out a new language.
A new member of the NDB community, ASL teacher Trina Licht started hosting the table to "allow everyone to practice their signing skills in a relaxed and unstructured environment."
When asked what it has been like to have lunch at the table so far, she responded, "I enjoy seeing people increasing their knowledge and skills in ASL! I look forward to seeing this grow over time!"
There is a sign on the table that lists ways to communicate silently without knowing the sign for a specific word or phrase. Some of these options include pointing to the object, acting out a motion, fingerspelling a word using the ASL alphabet, giving the sign for the opposite of that item or concept and then signing "opposite" or listing items in the same category.
The table is built on the premise that "with sign language, everyone is included." Whether someone has proficient signing abilities or does not take ASL at all, the table gives them the ability to communicate in a way that they may not be familiar with.
ASL is an expressive and unique language that is a key part of Deaf culture. According to the World Federation for the Deaf, Deaf culture is the "beliefs, attitudes, history, norms, values, literary traditions, and art shared by Deaf people."
By eating and talking at the silent lunch table, not only are people experiencing a new language, but being exposed to a new culture.
For more information on Deaf culture and ASL, visit "Deaf Culture FAQ" on TheASLapp.com.

About the Writer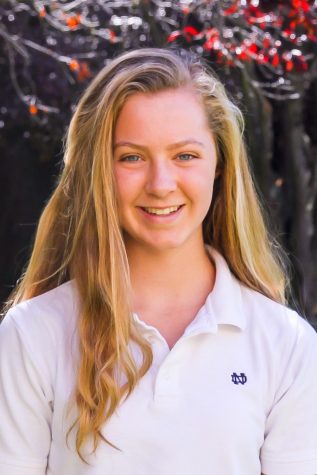 Parker Daley, Editor in Chief
Parker Daley is a senior at Notre Dame Belmont, has served as a Staff Writer and News Editor for The Catalyst, and is currently Editor in Chief. She is...