Spotlight: Political Scientist Dr. Larry Sabato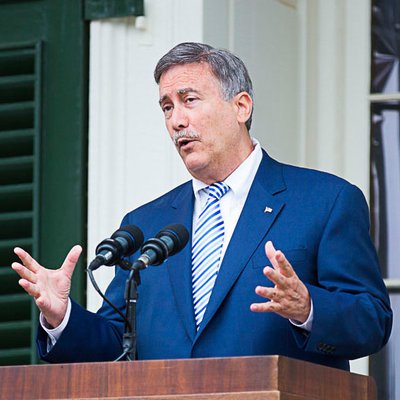 Hang on for a minute...we're trying to find some more stories you might like.
Ever wondered what the title of a political scientist entails? The Catalyst talked with Dr. Larry Sabato, who is the Director for the University of Virginia's Center for Politics, the author of more than 20 books, and one of the most renowned American political scientists.
TC: What were you involved in throughout high school and did you know that you wanted to go into politics?
LS: I was heavily involved in student government in my school, but also worked for political candidates.  I passed out leaflets and literature for John F. Kennedy when I was young, which was my first introduction to politics.  I had doors slammed in my face, which was an interesting introduction!
TC: What did you study in college?
LS: I studied politics and government at [University of Virginia], graduating in 1974. I then pursued a Masters from Princeton [University] before being named a Rhodes Scholar and completing a [Doctor of Philosophy] at Oxford University…
TC: What does your work consist of on a daily basis?
LS: I'm the Director of the UVA Center for Politics, which has many different initiatives, such as the Youth Leadership Initiative (YLI), election analysis and predictions via our Crystal Ball newsletter, and university and community programs on current politics and government. I consider myself incredibly fortunate that I work with great people and we have so much going on that each day presents new tasks, responsibilities, and challenges. My daily schedule can go from teaching courses to UVA students, to moderating a panel discussion, to speaking to reporters, to working on research for an upcoming book.  Every day is different!
TC: Would you run for office?
LS: No, I'm happy where I am and work in a nonpartisan department of a state-funded institution.  I love my job and I'm a big believer in the idea that if you love what you, you never work a day in your life.  I wouldn't want to disrupt that.
TC: After creating a documentary on the JFK presidency, you must certainly be able to see how it differs from the presidency now. As a political analyst, what are some of the most impactful differences (good or bad) when you compare President Kennedy to President Trump?
LS: This can be difficult, as times are so different between the 1960s and now.  I will say that one of the critical differences is that the US is incredibly polarized now.  While I don't want to idealize the 1960s (there were many controversies and it was a time of considerable social and political upheaval), it was a time when compromise and coalitions in government were more common.  People also responded strongly to the optimism or President Kennedy, which was amazing to watch at the time (I was young, but canvassing for Kennedy is how I got my start in politics).
TC: Do you have advice for students that are in a very left/right-leaning atmosphere/how should they be able to share their opinions?
LS: I would say that the most important thing for young people, really in any atmosphere, is to keep an open mind.  Even if you don't agree, you should engage other people and listen to their ideas and beliefs. One thing that I think is missing from our country now is open and thoughtful dialogue and discussion, and I think young people need to start thinking about how to change this.
TC: Out of writing a book, appearing on television, creating a documentary, and being a professor, what is your favorite part of your work?
LS: Teaching by far is the best part.  Seeing young people learn and grow is incredibly rewarding and it's amazing to see how they apply the lessons they learn at UVA later in life.  It's always a joy catching up with former students.
TC: Do you have any goals for the future you wish to accomplish?
LS: I would love to see UVA continue to be a world class institution and the Center for Politics to continue to grow.
TC: What would you recommend to a high school student who is interested in a career like yours?
LS: Probably the basics: study hard, reach as much as you can, consider different points of view, have as many different experiences as you can.