Too Young to Protest or Too Young to Die? Student activism and the movement against school shootings
Hang on for a minute...we're trying to find some more stories you might like.
"Enough is enough!" "No more silence! End gun violence!" These chants and many others resonated throughout schools across the country on March 14, 2018, where 1 million students from over 3,000 schools walked out of their classrooms at 10 in the morning for 17 minutes of silence, showing solidarity with the 17 victims of the Parkland shooting.
In the weeks following the Valentine's Day shooting in Parkland, Florida, which left 17 students and teachers dead, and an additional 14 injured, survivors of this tragedy have pioneered a student-led movement for better gun control laws in an effort to end mass shootings in America. The momentum from this movement has encouraged activism in many communities throughout the country, with mixed results and responses. While some adults and politicians have supported young people taking an initiative to create change, many others have criticized the movement. Negative comments claim that school is not the place to protest, it is a place to learn, and some schools have even exerted disciplinary action on students who walked out, including detentions and suspensions.
Schools are indeed a place to learn, but that has not stopped over 200 school shootings from taking place since the 1999 Columbine High School Massacre. As members of Generation Z, people born in 2000 or later, the vast majority of current high school students were born after this tragedy. The threat of having an active shooter on campus has been a reality since the day we stepped foot in kindergarten classrooms at just five years old. We have grown up in the shadow of Columbine and other tragedies, and we have seen how time and time again, the same tragedy occurs–in a different city, in a different place, perhaps with a different body count, but regardless, with chilling similarities. And we have seen, time and time again, the lack of action that follows. Our government has refused to make a difference over the past 19 years since Columbine, in which 12 students and one teacher were murdered, (and an additional 21 injured), in a place where we are supposed to learn and to feel safe.
As students, we are acutely aware of the gravity of this issue. We have been feeling the effects of gun violence closing in on us since we were in elementary school, and we are always asking ourselves if we are next. One thing our generation has made clear in the past several weeks, is that we refuse to accept school shootings as part of the status quo. As stated in a powerful speech by Parkland shooting survivor Emma Gonzalez, "We are going to be the kids you read about in textbooks. Not because we're going to be another statistic about mass shooting in America, but because… we are going to be the last mass shooting."
And so, as these tragedies become increasingly normalized, we have been forced to step up and express conviction where our representatives have failed to do so. The Second Amendment calls not just for the right to bear arms, but for this right to be, "well regulated." Our constitution also calls for a right to life and liberty, and the fear that the epidemic of mass shootings has created for students has negated their access to these rights. It is time for Congress to start the discussion on how to minimize gun violence. Whether these conversations happen in the coming months, or in 20 years once our generation has been sworn into office, change must come, and every day in which we hesitate to challenge the idea that guns are more important than children's lives, the bodies will continue to pile up.
Instead of taking steps towards change, politicians have repeatedly resorted to the increasingly empty and clichéd offering of, "Thoughts and Prayers" for victims of these preventable tragedies. And so, in addition to doing my math homework or studying for my tests these past few days, I have been looking up statistics, reading articles, sending emails, and working tirelessly to keep my peers involved and informed on why this issue affects us. Instead of staying in class and fading into complicity for our silence yesterday, we took a stand. And so, in the future, we will run for office, we will vote, we will fight for change, and we will refuse to ever repeat the phrase, "there has been another school shooting."
About the Writer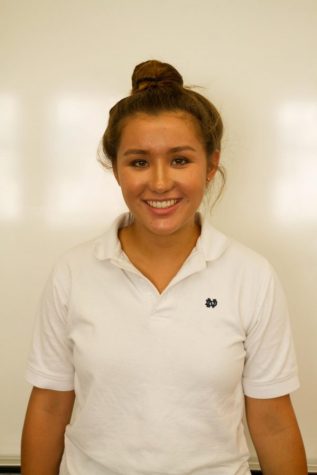 Johana Ligtenberg, Editor in chief
Johana Ligtenberg is a current senior and member of the Titan class of 2019. As the Editor-in-Chief, Johana Ligtenberg oversees all department editors and works closely with Managing Editor, Michelle Kleytman, and Teacher Adviser, Robert Rojas, to successfully manage the Editorial Staff and newspaper. She collaborates with Michelle Kleytman on "Food for Thought," a Bay...