Athletic feature: (outside of school sport)
The Catalyst (TC): When did you start figure skating?
Clara Mori (CM): I started skating when I was four years old. My dad did ice hockey, and sometimes he took me and my best friend to the rink every week as a playdate spot.
TC: Do you compete or just do it for fun?
CM: At first it was for fun, but, soon enough (from age 5), I started to aim to become a pro-figure skater.
TC: What is your favorite part of skating?
CM: My favorite part of skating is performing in front of the audience. I feel like this is very unlike me because I usually don't really like getting up in front of people. This is just really different.
TC: What got you interested in figure skating?
CM: One specific experience got me into it. I went to see Friends on Ice 2015 when I was 8 years old, [and it] really inspired me to aim for a higher level of skating. Friends on Ice is an ice show that takes place annually in Yokohama, Japan. [It is] produced by pro-figure skater and 2006 Torino Olympic Champion Shizuka Arakawa. At the time, she was scouting two young skaters to skate in her show, and, fortunately enough, I was selected as one of them. There I encountered many figure skaters such as Jeremy Abbott, Meryl Davis/Charlie White, Satoko Miyahara, and, of course, Shizuka Arakawa. This established a path for my career up to this day, as Jeremy has become my choreographer, and Yuka Sato, who I also met there, eventually became my coach. Skating on the same stage as these skaters and also my mentors (that I look up to) was a lot of pressure at a young age, yet it truly inspired and provoked my interest to become a skater like them one day.
TC: What does your practice schedule look like?
CM: It really depends on the season, but, right now, I practice in the morning before school in San Mateo and after school in Dublin where my coach is. I do additional off-ice practice daily too.
TC: What is the most challenging part of skating?
CM: The most challenging part of skating is definitely injuries. This has become a problem for me in the past three years, as I have undergone treatment for many problems: Osgood-Schlatter disease, a stress fracture in my left tibia, and four muscle pulls. Not only did this forcibly take away time off the ice as well as my abilities, but it has also arisen a mental dilemma, such as a fear of jumping.
TC: How do you balance school and skating?
CM: Back in middle school, figure skating was always my foremost priority. In a typical week, I would go to school for two or three days, and, on [the] other days, I would be practicing or traveling for competitions and camps. It's still kind of scary to look at my middle school report card. But with my [middle] school's support for my athletic pursuit, it allowed for more room. Now that I am in high school, I feel that things have drastically changed. I still find it difficult to maintain a balance between skating and school, so that's a goal of mine right now, [especially] considering how this period in my life affects my future so much.
Leave a Comment
About the Contributor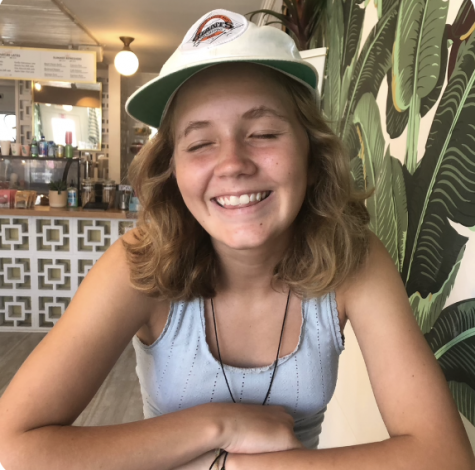 Emma Callicott, Sports Co-Editor
Emma Callicott is a Sophomore at NDB. This is her second year taking journalism and she is very excited to grow as a journalist. She can't wait to write...