Featured spring athletes: The seniors
NDB offers five spring sports: Beach Volleyball, Lacrosse, Softball, Swimming and Track & Field. Unfortunately for the athletes who compete in these sports, their seasons were cut short due to the COVID-19 outbreak. The Catalyst spoke with several standout athletes from each team about their athletic careers at NDB and their hopes to continue them to college and beyond.
Delaney Fox, Lacrosse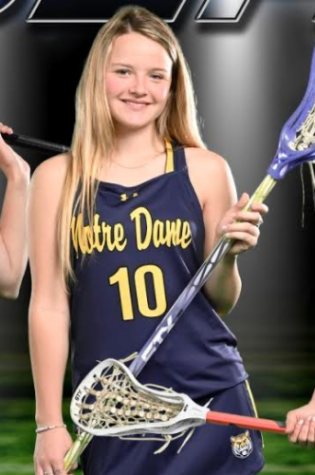 Since her junior year, Delaney Fox has been a member of NDB's lacrosse team. She enjoys playing the sport because of her enjoyment of running and the adrenaline it gives her. 
"It made me really sad knowing I won't have senior night and my last game, but everything happens for a reason!" Fox said about her feelings for the season's cancellation.
Fox will continue her education at the University of Mississippi and is considering playing club lacrosse.
"Never miss practice, enjoy the games and the memories because you never know when it could be taken from you," Fox said for her advice to younger student-athletes.
Dania Rau, Swim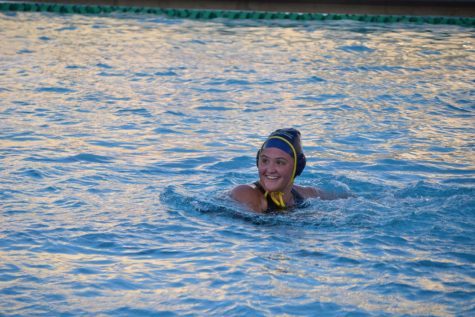 Swimmer Dania Rau has put lots of dedication and passion to her swim career at NDB. Competing in many different events, Rau has been competitively swimming since the fifth grade as well as playing water polo since her freshman year. While she loves the competition, she also loves all of her teammates and the unique relationships that she has built with them throughout the seasons. The highlight of her NDB swim career was attending CCS for relay events during the past three seasons.
"Having the spring season canceled didn't feel real at first. We had only just had our first meet of the season, and had I know it would have also been our last, I probably would have experienced it differently," Rau said.
I'm sure there were some athletes who were relieved when spring sports were canceled, maybe even a bit excited, but I was really sad to have lost my final season. We had been hoping to travel down to LA again this year for a meet. That never happened. I never got my senior night or got to compete at trials and finals, or all of the other fun meets in between. There was so much that I was looking forward to and I was so disappointed that I and my fellow senior athletes wouldn't get to experience them," she added.
Next year, Rau will be attending Purdue University. She hopes to play club water polo and just keep swimming.
For other student-athletes who are struggling, Rau said, "When this is all over, appreciate every moment that you have been able to play your sport. It goes by way too quickly so cherish all the time you have left. Make the most of every second of it."
Ellie Muscat, Beach Volleyball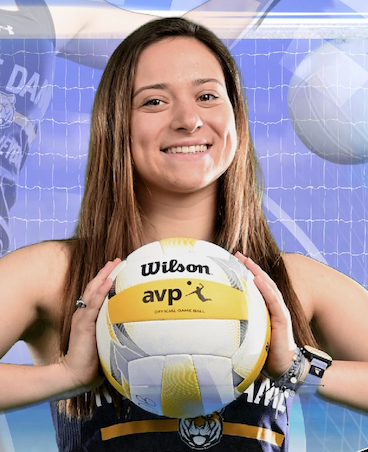 As the only senior on the team, Ellie Muskat is a huge part of the beach volleyball team. Being a part of a team was one of the main reasons she loves volleyball as everyone fights for the win together. Muscat won an elected award – the most valuable player – during her freshman and junior years, proving that her teammates see her value on the team. She was disappointed that her season was cut short right at the start as she wanted to embrace her final moments as a Tiger.
Muscat will attend the University of Washington.
"Never make your sport an excuse not to perform in the classroom. Always put school before sports, and try your best to find a good balance," Muscat said as advice that she would give to younger student-athletes.
Kaitlin Kiesel, Softball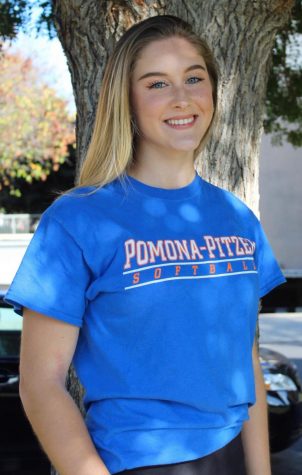 Pitcher Kaitlin Kiesel has been playing softball since she was five, and her longstanding dedication to the sports is evident in her skill level. She is so dedicated to softball, she even pitched an entire season with a fractured spine. Kiesel is a team player and treasures the bonds she has made with her teammates over the years. The shortened season was definitely a frustration for Kiesel as she had been working up to this moment for her entire NDB career.
Pitzer College is very lucky to have her as a committed member of their softball team next year.
"One piece of advice I would give to younger student-athletes is to work hard and always keep your grades up!" Kiesel said on her biggest piece of advice for other student-athletes looking to commit to their sport. "One thing colleges look for when they recruit you is if you have a high enough GPA to be admitted into their school."
Avery Stump, Track and Field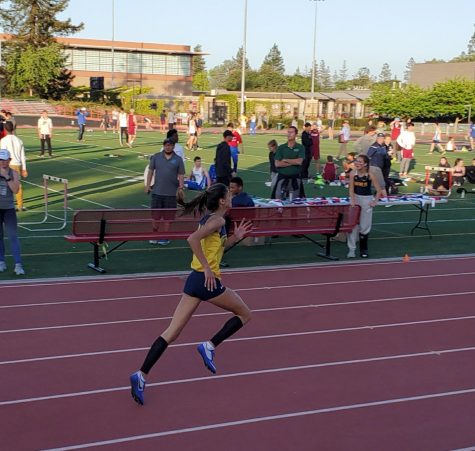 Avery Stump is an all-around track star, competing in the long jump, triple jump, 300-meter hurdles, and the 4×400 relay.
Since sixth grade, Stump has been running track, working hard to grow into the athlete she is today.
"I love track because it's both a team sport and an individual sport, so everyone has a time to shine which is really cool," Stump said.
"I also really like training for track because I like the workouts. And, yes, they are really really hard, but I always feel really good after, and I love that feeling."
While disappointed she did not get a senior season or a final season at NDB to break records and lead her team as captain, Stump's successful and standout junior season made up for the missed opportunity. 
"As a junior, I won first place in multiple events at almost every meet. At the WBAL finals, I scored top three in all of my events, securing me a CCS spot in the 300-meter hurdle race. I was so so excited and it was truly a great memory," Stump said about the highlight of her NDB track career. 
As she moves on from NDB, Stump plans on attending Chapman University in the fall and is on the roster for their track and field team.
Her final statement to NDB athletes: "Being an athlete is very different from being someone who exercises. An athlete is someone that is coachable and knows how to listen. They know to be one of the first people on the court, field, track, all of the above, and then one of the last ones to leave. An athlete is devoted and strong and knows that failure means growth, not a time to quit. So, my advice would be to be the athlete. Be the person that others look up to. Be the best version of yourself all the time. Don't give up because something is hard, push through because you can do it."