Community celebrates Black History Month
Black History Month, spanning from February 1 to March 1, is a time to highlight the achievements of Black individuals and recognize the Black community's contribution to U.S. history and culture. At NDB, the month is honored with events organized by the I Am Diverse Club.
The club has created a bulletin board to celebrate the month and an immersive exhibit on Afrofuturism that ties together elements of art and poetry from different African cultures.
"We just want to bring a little bit more awareness of what Black History Month is to the school, just because there's, like, no one here that would understand it," said senior and I Am Diverse club member Ryan Edwards. "What we're basically trying to do is just bring in that kind of culture that we don't normally see, we're not really allowed to talk about at the school, and allow people to understand how it affects our lives as African Americans every day, even though to other people, it doesn't seem like it's an everyday kind of thing."
Club moderator Gillian Imazumi-Hegarty also created an interactive slide deck titled "Honoring Black Excellence", which has been shared with the student population to educate the community about the importance of Black history.
For each day of February, one modern Black changemaker is highlighted in the slide deck along with a brief biography and links to more information. The slide deck also includes a playlist featuring educational songs produced by Black artists, which is also available on Spotify with the title "Black History @ NDB".
"I hope that students will learn to respect Black history and try to understand it, and not just let it be, like, a thing that they have to go through… Like, actually try to work towards being a part of it and being a part of the change that we're trying to promote," Edwards commented.
On February 1, a document was shared with the community providing resources about Black history and how to be anti-racist. The list included movies, books and articles such as "Hidden Figures," "How to be Less Stupid About Race" by Crystal Marie Fleming and "Being Anti-Racist" from the National Museum of African American History.
Journaling prompts have also been supplied via email as an optional activity for students. For each week of the month, an article, video or theme is given as a starting point for journaling, and each day also has a prompt to help participants reflect on their experiences of race and what anti-racism means to them.
"I hope [the NDB community will gain] greater appreciation and understanding. I don't know the statistics, but I know that we have a very small Black population at this school, and so without having first-hand understanding of those stories, it's hard to fully appreciate and empathize with them, and I think that this is our opportunity to take that dedicated look," shared History Department Chair Jonathan Tomczak. "So basically, widening our gaze and deepening our understanding."
Black History Month is a great opportunity to honor Black heritage, but it is important to remember that anti-racism work and education should extend beyond February.
"What's great about the history department is that we get to tell these stories and these events all the time. It's integrated. We've made a great effort to integrate it deeply into our curriculum every day, so that it's not like, 'Oh, February 1, we have to double down and go off a checklist,' that's not the right way to do it," explained Tomczak. "The right way is to make it an important part of all of the curriculum."
Additionally, the department has worked to highlight the achievements of Black individuals throughout history that are too often overlooked.
"[We're] not just focusing on the negatives and downsides of white supremacy and everything, but we're also making an effort to tell the stories of, for example, successful Black entrepreneurs, successful Black politicians, farmers, etc. to tell those positive stories too… It has to be talking about how we got to this point, but also talking about the successful stories of those who were able to defy the system that was weighing them down," Tomczak added.
The resources provided this month are great starting points to go beyond the classroom and continue to work on anti-racism and develop a deeper appreciation for Black history.
"Obviously, Black History Month is a really important part of my life, I've been working on stuff like this for six years now, and it's just an incredible thing that I really wish a lot more people took the time to take in and learn about," Edwards concluded. "I hope that everybody just is allowing themselves to be a part of it."
Leave a Comment
About the Contributor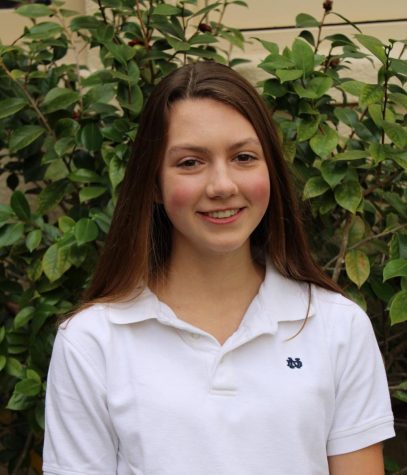 Peyton Daley, Editor in Chief
Peyton Daley is a senior and this is her third year as a Catalyst writer. She served as Arts & Life Editor her sophomore year and Managing Editor her...