NDB delegates participate in Global Education Forum
This year, five NDB students are participating in a Global Education Forum organized by the Sisters of Notre Dame de Namur with other Notre Dame institutions from around the world. The focus of the forum is climate, with an emphasis on social justice in relation to environmental issues.
Director of Mission and Ministry Amy Jobin and history teacher Matthew Hankins are serving as facilitators for the project. Freshmen Aditi Joshi, Bella Svanberg and Maggie Templeton and seniors Peyton Daley and Emma Treanor are NDB's student delegates.
The delegates will meet for quarterly Zoom meetings throughout the year with high school students and teachers from 13 Notre Dame schools in North America, Europe, Asia and Africa. Their first meeting was October 20, and they broke up into cohorts to discuss how they have experienced and addressed climate change in their own communities.
"My group has people from Nigeria, people from Massachusetts, and other places, and I've learned so much about current problems and you know, climate change in their area." said Svanberg. "So like for example, we face droughts and forest fires, but in Massachusetts, they're involved with changes in weather patterns that really affect the environment. And in Nigeria, there's a lot of rain, but the problem is that there's trash and everything goes down the drains."
In the spring, they will work together with their cohorts to develop a project that each school can implement within their own communities that addresses climate change, caring for the earth and ecological justice. They are centered around the message of Pope Francis's Laudato Si, an encyclical which details the importance of shifting away from consumerism and promoting sustainability to protect nature and those deeply affected by environmental destruction.
"[I wanted to participate in this forum] because the issue is really kind of so cataclysmic at the moment and you know, even though it affects different people disproportionately, it does affect everybody and it will affect everybody in the near future," Templeton shared. "Especially countries that aren't seeing the effects as much are the main contributors [to climate change], so I think that's really important to be addressed, and I also think that Laudato Si is a great tool to motivate people by appealing to religion as well, and we do go to a Catholic school so there's that personal connection."
The delegates have their next international meeting on December 7. As they prepare by reading Laudato Si and studying current events related to climate change, they are also working to raise awareness about the forum and its purpose.
"I'm hoping that our delegates can both educate and motivate NDB to action in the near future, and I also hope that we will continue to explore ways that NDB students can collaborate with other Notre Dame learning communities around the world," said Hankins.
Leave a Comment
About the Writer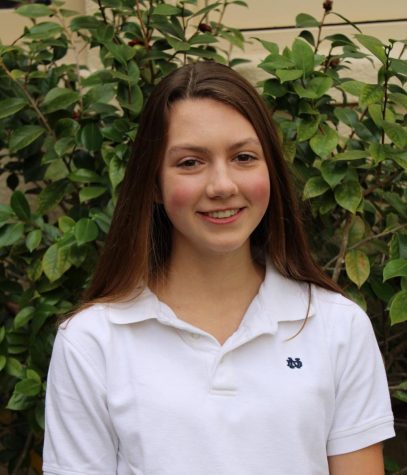 Peyton Daley, Editor in Chief
Peyton Daley is a senior and this is her third year as a Catalyst writer. She served as Arts & Life Editor her sophomore year and Managing Editor her...