Seniors work on college applications in midst of pandemic
The college admissions process is always stressful, but with the coronavirus pandemic, this year's senior class is facing uncharted territory. Although a majority of college applications were already online, distance learning has changed the way students connect with their counselors and college representatives and how they determine where to apply.
One of the biggest changes to the admissions process for the Class of 2021 is the lack of standardized testing. Since March, one after another SAT and ACT has been cancelled, leaving many NDB seniors without scores. While most colleges have adjusted their application requirements to become "test optional," others continue to mandate test scores as a part of the admissions process, limiting college lists for those who were unable to take a test.
Another downside to not having standardized testing results is not being able to compare on Naviance to the school's average, which helps many seniors decide where to apply and which colleges are their "safety" or "reach" schools. For students, the new "test optional" requirements raise the question of how they will be assessed by college admissions officers.
"Once you take that SAT or ACT out, there's all these other pieces of the puzzle… That means you take a deeper dive into the other pieces, so you take a deeper dive with the essays, a deeper dive into the extracurriculars, the courses, the grade trends, things like that," said NDB College Counselor Dina Cunha.
For senior Chloe Powell, one of the hardest parts of working on college applications amid distance learning is having to virtually connect with her teachers and academic advisers.
"In general [the college admissions process] is harder because Ms. Cunha's office is at school, and normally I'd be able to stop by when I needed her, and the teachers I'm getting recommendations for, I have to contact digitally, so it's harder in that aspect," said Powell.
In order to support NDB's seniors, Cunha has developed a Schoology page open to all members of the Class of 2021 which holds each student's college list, transcripts, and college profile as well as general college essay questions and prerecorded college admissions workshops. Each year, between 70 and 80 college representatives from different schools visit NDB to talk to students about their institutions. This year, those meetings have become virtual, allowing Cunha to record them and add them to her Schoology page as well.
"The new Schoology page, it's a really helpful way to be able to have the information all in one place," said senior Hadley Stevick. "It's also been really helpful to have lots of information sent out to both the parents and us, because parents, at least mine, are really involved, and they like to see the information that we're getting as well, to help make sure we're on track."
This new college counseling Schoology page will soon become available to juniors as well as they begin their college search, and will continue to be used for classes to come.
Leave a Comment
About the Contributor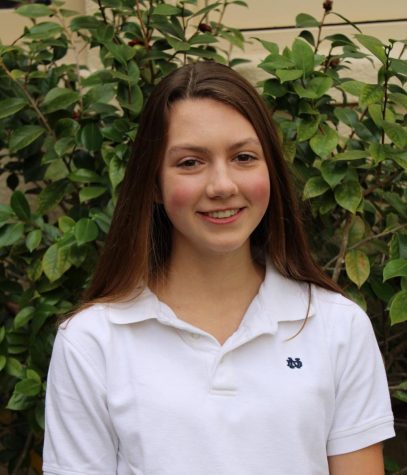 Peyton Daley, Editor in Chief
Peyton Daley is a senior and this is her third year as a Catalyst writer. She served as Arts & Life Editor her sophomore year and Managing Editor her...