Why I'm disappointed by a postponed Winter Formal
Here at NDB, student life is extremely important, and it is one of the many aspects that makes NDB so special. A huge part of student life is our social events; whether it is rallies, sporting events or dances, it is always exciting to celebrate the NDB sisterhood. This is why the postponement of this year's Winter Formal, one of the biggest social events of the school year, has been disappointing to many.
The dance usually takes place at an outside venue near the end of January or early February. In the past, it has been at the Crowne Plaza in Foster City, where the ballroom was elaborately decorated with a DJ and refreshments. Students dress in formal attire, which is a lot of the reason why the experience is so fun. NDB students are also allowed to invite friends from outside schools to the dance, making the event a great opportunity for students of a variety of schools and grades to socialize.
This year, Winter Formal was supposed to be held on February 4, but as expressed in the NDB Newsletter in January, it has been postponed until March 19, 2022 due to the recent COVID-19 outbreak that has been affecting local schools. Many students had already begun buying dresses and making plans surrounding the dance, so the postponement served as an inconvenience.
"I think that although the event will still be enjoyable, by that time, we will all be mentally prepared for Aquacades, Spring Break and other end-of-the-year events, and it will not truly feel like Winter Formal," said junior Genna Klein.
Although we care about the safety of our community and understand the COVID-19 precautions that must be taken, Winter Formal is the perfect mid-year event, and over a month later in March, it will just not be the same, as it will hardly even be winter. We must also keep in mind that the NDB Prom is taking place in May, just two months after the formal, so juniors and seniors will be attending two dances in the spring instead of having them spread throughout the year.
Even though the Winter Formal will look a bit different this year, we are grateful that the event is still on, and are thankful for the students and faculty who planned the event and are trying their hardest to give us the NDB Winter Formal we look forward to every year.
Leave a Comment
About the Contributor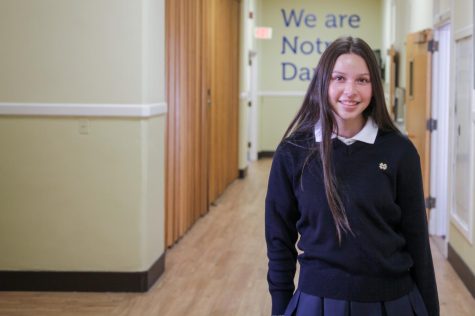 Molly Phan, Editor in Chief
Molly Phan is a senior at NDB and it is her third year with The Catalyst. She was involved in the journalism club her sophomore year and served as the...