Cross country runners spring into action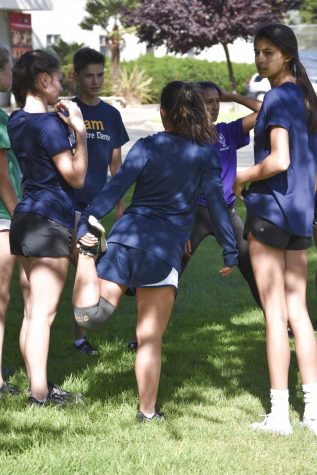 Cross Country is so much more than running. It is a very challenging sport, both physically and mentally. Runners have to push themselves to their limits and have the mindset that they can do it.
NDB's junior varsity and varsity teams are off to a good season so far with some really promising freshmen, including Nieve Dandekar who runs on varsity.
They completed their first meet at Toro Park in Salinas in early September. It was a little over three miles and  full of challenges, including hot temperatures. But, both teams finished in the top ten.
Runners work very hard for their meets. They typically run three to five miles during each practice, working to improve their endurance and speed each time.
Teammates always cheer for and congratulate each other when they finish a race. Ultimately, everyone wants each other to be motivated to push themselves this hard and to succeed.
For the rest of September, the Tigers have a practice meet with Mercy, Serra, and Westmoor High Schools on Tuesday, September 26 and their next official meet is on Saturday, September 30, both at Westmoor.
In October, they have the Serra and Crystal Springs Invitational on Saturday, October 7 and the Monterey Bay Invitational on Saturday, October 14.