NDB's College Athletics Signing Day
This month the NDB Athletic Department held their annual College Athletics Signing Day. Four different senior athletes signed to their colleges for a couple of different sports. Kelly Schackel committed to Cal Poly SLO for volleyball. Abby Miller committed to University of the Pacific for volleyball. Maddie Gleason committed to UC Davis also for volleyball. Lastly, Channing Taner committed to Southern Methodist University for rowing. The athletes celebrated safely at NDB on November 11 while following all the new COVID-19 protocols. Athletics Director Jason Levine shared a few kind words as the girls signed their contracts separately.
Kelly Schackel committed to Cal Poly SLO in July 2019. She has played volleyball since she was in the first grade starting with her school team and then transitioning into playing club in sixth grade. Throughout her journey, she has had her fair share of struggles including overcoming anxiety behind volleyball. She chose Cal Poly SLO, because of their amazing volleyball program and coaches along with their excellent academics and kinesiology program.
Abby Miller started playing volleyball in fourth grade and committed to University of the Pacific at the beginning of August. She had never seen herself with a major future in volleyball as she solely started playing it for fun. She soon realized the many opportunities the sport has opened up for her. The most important thing she learned from her experiences is how to deal with rejection and how to develop a thick skin. She chose University of the Pacific, because it has the perfect balance of everything she wants between the volleyball program, academics, and location.
Maddie Gleason started playing volleyball in fifth grade with private lessons and camps, but she started playing club at the age of twelve. She has put a lot of time and hard work into volleyball and she saw that all pay off when she committed to UC Davis in early March. The hardest part of her journey was recovering from multiple injuries and working hard to get back on the court as soon as she could. She decided on UC Davis, because she wants to become a veterinarian with their amazing vet program.
Channing Taner started rowing when she was a sophomore and has worked hard since then. The hardest part for her was staying motivated to stay in shape throughout quarantine. Then, on August 20th she committed to Southern Methodist University. She chose SMU because she loved the team's energy and the coaches. Not to mention that they have an amazing business school and pretty campus.
At the event each athlete said a few words then signed their contracts. They each brought friends and family along while everyone followed COVID-19 protocols and wore their masks. Overall, the event was successfully put together with everyone staying safe.

About the Contributor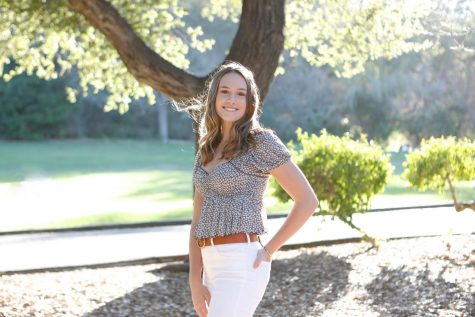 Kaelin Hughes, Staff Writer
Kaelin Hughes is a Senior at Notre Dame and this is her first year writing for the Catalyst. She has been on the Notre Dame cheer team for three years...