Cheer team ready to bring it on for competitions
Hang on for a minute...we're trying to find some more stories you might like.
Spirit is a large part of every high school and NDB is no different. The Cheer team, for example, exudes spirit and entices the student body to show their love and admiration for their school.
Cheer season is a time for the team to showcase a high amount of tumbling skills and creative stunts. The team has been working hard every practice to perfect the routine that will be performed during competition season that begins in October.
The competitive aspect of the team causes everyone to push hard in order to score well at competitions.
Competitions cause stress on everyone because the team has a short amount of time to impress the judges. Routines are fast paced and action packed and leave no breathing time for the athletes to rest.
Conditioning and weights are worked on outside of practice to ensure that each cheerleader has the stamina to persevere throughout the entire routine.
Each high school cheer routine consists of three parts: the music, cheer, and dance sections.
The music section is a fast paced routine that mimics the routines that are competed at an all-star level. It showcases different aspects of cheer, including dance, stunts, and tumbling.
The cheer section is created to entice the crowd and encourage them to root for the school. A series of words about the school are said by the cheerleaders while they perform a motion section that includes stunts and tumbling.
Lastly, the dance section is a high-tempo dance with sharp motions that end the routine on a strong note.
The athletes' hearts race with excitement and nervousness to impress the judges.
Because of the amount of teamwork involved, NDB's cheerleaders have an amazing bond. With the absence of one athlete, the routine cannot be performed properly because formations and stunts are not legal without all needed players.
The cheer team's main goal for the season is to win the national competition in Anaheim.
The first step to achieve this goal is to qualify to compete at nationals. This qualification, or "bid," can be received at any of the competitions that the team is competing at this season.
Once a bid is received, the team is invited to Anaheim to compete against the best teams in the same division.
The NDB Cheer team has the motivation and skills to win nationals and has a strong season ahead!
About the Photographer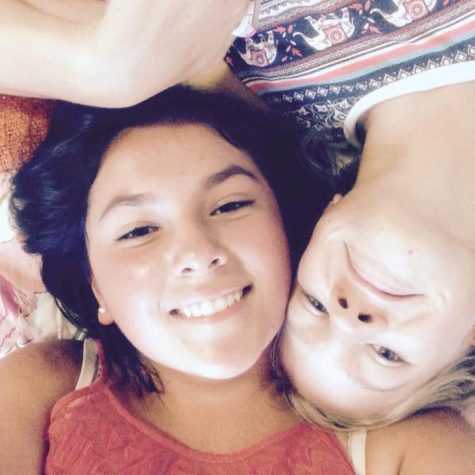 Samantha Ramos, Photographer
Samantha Ramos is a member of the Class of 2018, the Mavericks.  She is currently a photographer for the NDB Catalyst.