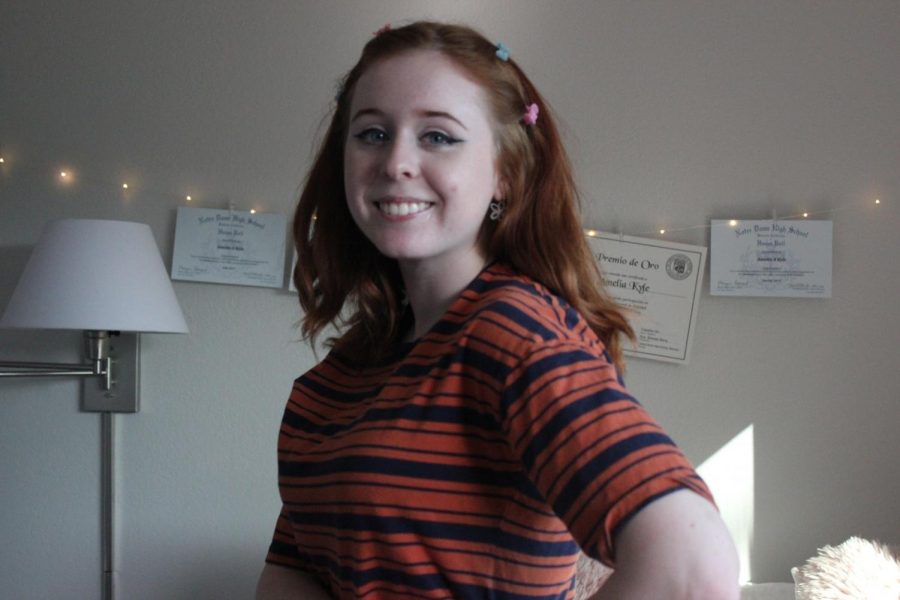 The Catalyst / Photo courtesy of Reilly Moore
Reilly Moore, junior at Design Tech High School
Since many schools have closed due to the coronavirus pandemic, many high school students are going to school online in what is called distance learning. Some of them communicate with their teachers via email or websites, like gClassroom and Schoology. Others participate in online classrooms via video conferencing apps, like Google Hangouts and Zoom. The Catalyst interviewed Reilly Moore, a junior at Design Tech High School, about her experiences going to school online.
The Catalyst (TC): What is a typical day of school like for you?
Reilly Moore (RM): Right now, we're doing intersession and next week is our spring break, so I'm not sure how core class schedules will look.  But, as of right now, I have to be on a Zoom call from 9-9:30 a.m. with my homeroom teacher, then we're free to go after the call. We can do our work whenever, just as long as it's submitted by the deadline. 
TC: How are you coping with shelter in place and keeping in touch with your friends?
RM: I have mixed feelings about shelter in place. On one hand, it's really nice to just be able to roll out of bed and do school, and I have a lot of time to jump back into old hobbies (playing bass and skating). On the other hand, I'm used to a super active social life and being out of the house for the majority of the day on weekends, so I miss being able to see all my good friends and my boyfriend. 
TC: Do you feel like the amount of work you've been assigned is more, less, or about the same as it was before?
RM: I think it's less, but part of that is tied into DesignTech's curriculum. Our regular intersessions are still just a morning and afternoon class, but since it's independent, we don't have to sit through a teacher lecture and I can do the work quickly, instead of the assignment being drawn out.