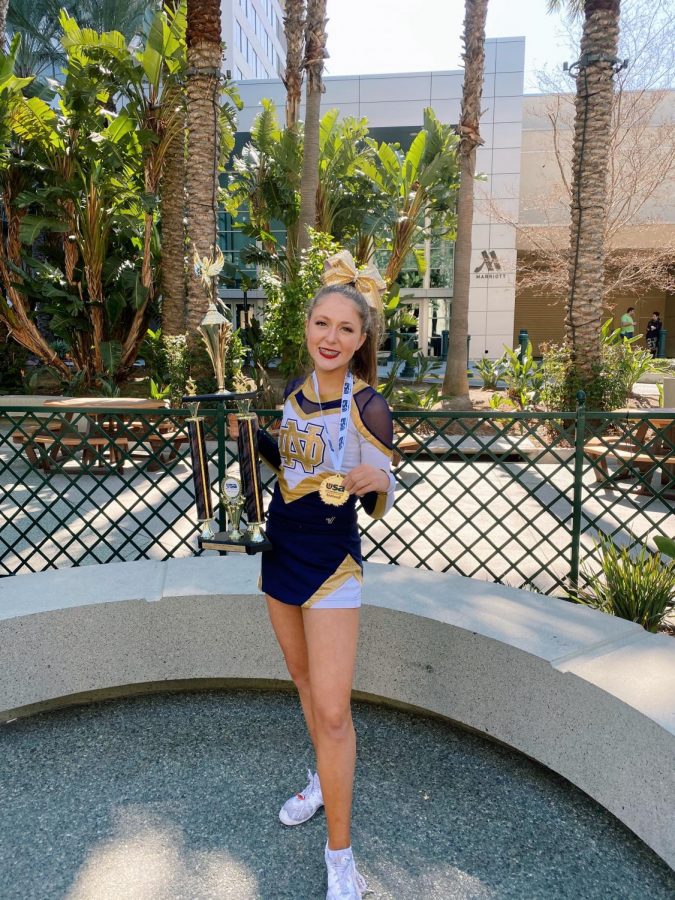 Paige Clarke is a Senior at Notre Dame Belmont and is in her second year as a Catalyst writer. As a Junior, Paige was the Sports Editor. Paige is a student-athlete herself and has been a flyer on the Notre Dame cheer team since her freshman year.
Paige enjoys many forms of publication aside from Journalism and makes various videos in her free time. She also enjoys personal writing and has a strong love for linguistics.
In the future, Paige hopes to continue student journalism in college. Her interest varies, and she plans on majoring in either Biochemistry or Journalism in college.
A fun fact about Paige is she loves coffee and drinks at least two iced coffees every day.
Paige Clarke, Staff Writer
Aug 22, 2020

The first week of school: Online distance learning edition

(Story)

May 19, 2020

Featured spring athletes: The seniors

(Story)

May 15, 2020

The NFL and COVID-19

(Story)

May 01, 2020

Meet the newly elected ASB officers

(Story)

Apr 13, 2020

The cancelation of Aquacades: Q&A with the NDB student and parent community

(Story)

Apr 11, 2020

Online distance learning: Q&A with Bay Area high school students

(Story)

Apr 03, 2020

Happy birthday from home

(Story)

Mar 20, 2020

Spring sports athlete saddened by canceled season

(Story)

Feb 21, 2020

Featured Coach: Nicole Ambayec, NDB Class of 2008

(Story)

Feb 21, 2020

Basketball and soccer teams put up a catfight

(Story)

Jan 30, 2020

Road to nationals: Cheer and pom recieve bids

(Story)

Oct 29, 2019

Currier named Head Track Coach

(Story)

Oct 29, 2019

Water Polo: NDB Defeats Carlmont HS, 8-5

(Story)

Sep 26, 2019

Q&A with the Wildcats: Zeina Zumot

(Story)

Sep 26, 2019

Q&A with the Wildcats: Sophia Vahabi

(Story)

Sep 26, 2019

Q&A with the Wildcats: Cassidy Morris

(Story)

Sep 26, 2019

Q&A with the Wildcats: Sienna Loar

(Story)

Sep 26, 2019

Alumna Kelly McDonald comes home

(Story)

Sep 26, 2019

Volleyball: Q&A with Shea Hanson

(Story)