The Sharks: Freshman class of 2026 joins the sisterhood
The Class of 2026, who have named themselves the Sharks in line with their class color of blue, have officially started their first year of high school at NDB. They started the school year strong in school spirit, placing third at the Welcome Back rally. With many activities planned for the year, the Sharks can look forward to an exciting freshman year.
The first event of many for the Sharks was Freshmen Orientation on August 12. There, they were supported by Link Crew and ASB in learning about what to expect at NDB in their first few weeks at school. After learning how to open their lockers, touring campus and participating in icebreaker activities, the Freshmen joined their parents for dinner in the Father Downey Garden.
"Orientation was a really fun way to be able to meet my classmates and see the school before it started," shared freshman Alexandra Charnas.
Julianna Loar and Tali Cuneo, members of the freshman class, reflected on their experiences after being on campus for nearly a month.
"It's been pretty fun. I know a lot more people now and I've been making so many friends. It's just been good to hangout with them," said Loar. "The classes were rough at first but now that I'm actually getting into it, they're making a lot more sense and I'm enjoying it."
"High school has definitely been an adjustment from middle school, but so far it's been good," Cuneo stated.
On August 26, the NDB tradition of Big/Little Sister day took place. Each freshman was paired with a junior to be her big sister. In June, the sister classes had filled out their interests in a Google form, and Freshman Class Coordinator Jonathan Tomczak paired together students who had similar responses. During the event, Sharks and the Dragons gathered in the Father Downey Garden to get to know one another over ice cream treats.
In the evening of August 26, Serra HS hosted their annual Tri-School event, the Frosh Splash. They host the pool party to give Mercy HS, Serra HS and NDB students a chance to meet one another in a non-academic setting.
"It was a little awkward at first but then once I started getting to know people, it was a lot more fun," said Loar.
To further unite the Tri-School freshmen, NDB hosted the first Tri-School dance. The dance was carnival-themed with candy, snacks and decorations. ASB and Link Crew Board attended the dance and helped introduce the freshmen to one another.
"I had a really good time meeting everyone," freshman Nora Ghattas shared. "The music was also really good and so were the snacks. It was actually really fun."
The Sharks held their class council elections on September 16. There, they listened to their classmates' speeches and voted for students who they thought reflected NDB's school spirit and leadership.
The newly elected freshman class council, including President Nelly Hickson, Vice President Emma Downing, Secretary-Treasurer Brooke True, Activities Director Alex Davidow, Athletics Director Lizzie Johnson, Spirit Director Tali Cuneo and Historian Kate McClenahan look forward to leading their class this year.
"I'm looking forward to growing closer friendships, being a part of lots of new clubs and all the sports seasons," said Cuneo.
With a year full of many firsts, the freshmen anticipate the events that NDB has planned for the approaching months.
Leave a Comment
About the Contributor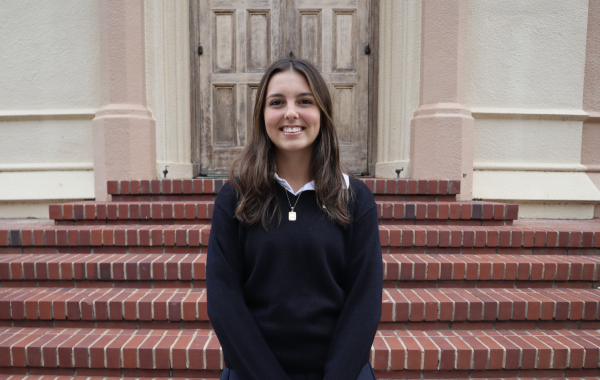 Mia Muzzi, Editor in Chief
Mia Muzzi is a senior at NDB and is in her fourth year of working for The Catalyst. She spent her freshman year as a Staff Writer, then during her sophomore...