Meredith Essalat begins tenure as NDB head of school
On July 1, 2022, Meredith Essalat, '98 assumed office as NDB's new head of school. As an NDB alumna herself, she describes her return to campus as "coming home" to the community that she credits for the person she is today.
Essalat graduated from NDB as a member of the Class of 1998, whose class color and mascot were the Blue Sharks. As the current freshman Class of 2026 has also been named the Blue Sharks, she feels an "incredible connection" to the students already.
As a Tiger, Essalat stayed very involved on campus. She served as the Editor in Chief of the yearbook during her senior year and also as a teacher's assistant (TA) for several years. Ultimately, her favorite parts of high school revolved around her passion for writing.
"I loved to write, I still do. So all of my favorite classes were really the ones around language arts and social sciences," Essalat shared.
Essalat's favorite memories during her time as a student reflect the close-knit environment that NDB is most known for. She recalls feeling bonded with her class during the Sophomore Overnight which was an on-campus sleepover event, as well as during the Junior Ring Ceremony. She also remembers the excitement surrounding Aquacades and her commitment to building her class's "Jaws" themed float for the kick off rally during her junior year.
After graduating from NDB in 1998, Essalat attended Menlo College where she studied mass communications with an emphasis in print journalism. She had always envisioned herself moving to New York City and writing for Vogue magazine, but at Menlo, she quickly became involved in student life and leadership. She developed an interest in event coordination and fundraising surrounding academics, which led her to her teaching credential that she earned in 2004.
"I taught sixth, seventh and eighth grade language arts for about a decade, but it was seventh grade that was my favorite," said Essalat.
After several years of teaching, Essalat moved to Dallas, Texas with her husband for a business opportunity. Because her California teaching credential did not transfer to Texas, she channeled her passions for teaching and her love for writing into her book, "The Overly Honest Teacher." In the book, she gives parenting advice from the teacher's perspective because she values having a connection with not only her students, but their families as well.
"In doing research, I realized that there really was not a book out there that was written from the educator's voice, and specifically around how we can bridge the gap of communication that so often does exist between parents and teachers," shared Essalat.
Now that she has been working on campus with students and staffulty members for nearly three months, she has been able to feel the warmth and encouragement of the NDB community. Her favorite moments so far have been her opportunities to build relationships with the new people she meets.
"I love getting to impact things from 10,000 feet, but then also at the same time getting to pop into a classroom and watch a teacher teaching. I'm loving supervision at lunch, and just getting to be outside and interacting with students as they're eating," she said. "I want to be with people, colleagues, parents and students. I love that," she continued.
During her tenure as head of school, Essalat hopes to maintain the traditions that make the school so special. Aquacades, the Junior Ring Ceremony and the DEI speaker series, for example, are all set to continue.
But above all, she emphasizes the importance of fun within the school environment.
"I think coming out of COVID and coming out of remote learning and isolation, it's so important to get back to having fun at school. You know, learning at its essence, at its core has got to be engaging and to be engaging, it's got to have a resonance of fun to it," said Essalat.
She also holds a genuine appreciation for the all-girls student population that exists at NDB, which she feels is what makes the environment so unique.
"There's just something about being in the presence of other females, like-minded individuals' opinions that are going to challenge you without fear of reproach, that you can really enter into conversations and dialogues and relationships and friendships, knowing that you're kind of just accepted for who you are," she said. "Here, everybody is motivated, right, and so driven to succeed, but there's just a warmth that comes from Notre Dame and I do believe that to be just from the collection of like minded humans that are here."
As Essalat makes the transition into her position as head of school, she reflects on what truly drew her back to NDB, and it came down to the kind of people that exist within the community.
"To be a Notre Dame Tiger, I think it means to be tenacious. I think it means to be empathetic. I think it means to be ingenuitive. I think it means to be courageous. I think that a Notre Dame Tiger is someone who is always evolving in the best possible way, wanting to make an impact in the world," she shared.
Leave a Comment
About the Contributors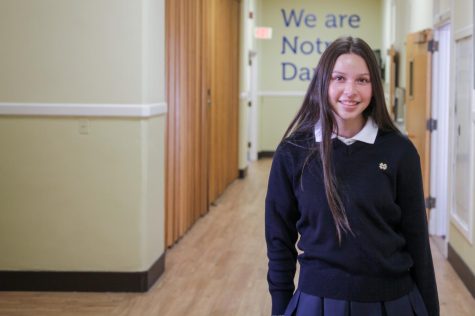 Molly Phan, Editor in Chief
Molly Phan is a senior at NDB and it is her third year with The Catalyst. She was involved in the journalism club her sophomore year and served as the...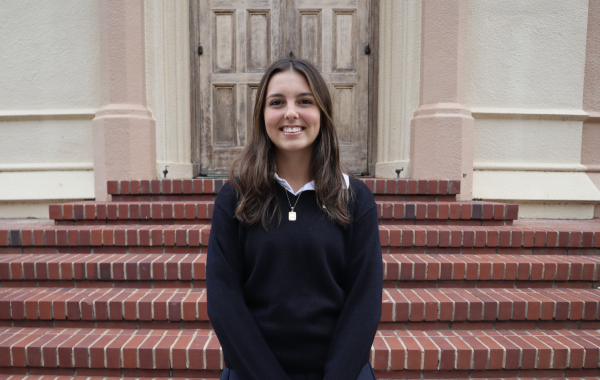 Mia Muzzi, Editor in Chief
Mia Muzzi is a senior at NDB and is in her fourth year of working for The Catalyst. She spent her freshman year as a Staff Writer, then during her sophomore...