Meet new Associate Head of School Arlene Empleo
The Catalyst (TC): What do you remember from your high school experience?
Arlene Empleo (AE): The rallies. I don't remember what happened in the classroom, but the rallies and all the extracurriculars I remember because I was so involved. Those were the best times, like our football games and my senior year prank. Our classes were our classes but our extracurricular activities. That was what made our class, our class and that's what keeps us together. I came from a small Catholic school but we're all still friends. After 20 plus years, we're still all involved in our reunions.
TC: How do you want to use your experiences to benefit the community?
AE: It's the extracurriculars. It really is. I'm really trying to encourage our students as well as our staff to go to the games, to go to the Tri-School plays and events. Because we need to show support, not just within the classroom but outside of the classroom. That just shows our community we're here, we're back in business and we're more than just a student inside the classroom. That's what makes us who we are.
TC: What were some notable jobs you've had previous to being at NDB?
AE: Previously, I worked as a paraprofessional for a family [whose] daughter attended the Bridge School at North Elementary in Hillsborough. I was at North for a year and brought my son with me. Then we left and came back. Then, I became a teacher. Some other jobs I had when I was going to school were interesting. I worked in the ER for Alta Bates [Summit Medical Center] in Berkeley. That was my night job so I worked answering phones for them. I also used to work in Long Beach, I was campus security. During the day I did my classes, at night I worked campus security. It was totally fun to drive the golf carts and walk around with flashlights.
TC: What do you like to do outside of school?
AE: Honestly, outside school, it's all about my boys. Whether it's soccer and I coach their basketball and volleyball teams. My other two boys play baseball, so I'm always driving around doing that with them. Every once in a while, maybe I'll get to dance in my kitchen with my husband. I love salsa music. But that's about it. It's all about my boys right now.
TC: What made you decide to come to NDB?
AE: Honestly, it was totally a leap of faith. I prayed on it. Like, I didn't even know this existed. I just was asked and I was like, 'I'm here to serve you.' I always wanted the experience to be in a single-gender school. So this was a great opportunity for me to be here. I just felt like I was called to be here.
TC: What are your goals for this year as far as discipline? Goals in general?
AE: For me, it's just the consistency and just having the regularity of certain rules that we have to follow. And just helping the students understand it's for safety. But it's when we don't understand the rules and people start breaking rules, then it's not fun. For me, I don't feel like I'm coming to work every day with this job. If I don't feel like I'm having fun or playing, it's not good anymore. That's why I want students to feel happy and safe and ready to learn.
TC: How will you be enforcing the rules and or giving consequences?
AE: I just really have been having conversations and I haven't had to call any parents yet about it. But it's just a conversation, you know? I feel like if there's ever an issue that has to be discussed, I want to match the consequence with it. So, that's why it makes sense to me. I'm just trying to make everything match the behavior, so we can change that behavior.
TC: Are you worried that students may view you as the "bad guy"?
AE: Of course. That's part of the job. Like, I get that. I'm totally fine with that. I think that's your initial reaction. But once you get to know me and understand me, I think it's totally fine.
TC: What impact do you hope to leave on the community?
AE: I just feel like, obviously, I want people to love being here. I just want people to feel welcome and want to be here. And be proud to be a Tiger. I'm just saying, 'We're number one!'
Leave a Comment
About the Contributor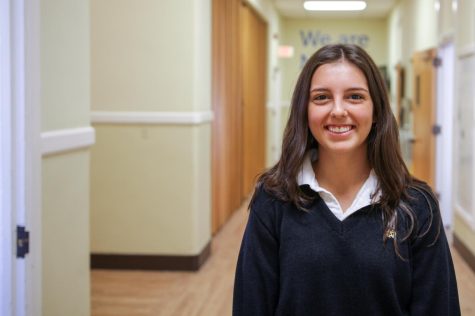 Mia Muzzi, Managing Editor
Mia Muzzi is a junior at NDB and is the Managing Editor for The Catalyst. She spent her freshman year as a Staff Writer, then during her sophomore year...