NDB sculpture luggage exhibit on display in SFO
After much anticipation, NDB sculpture students' projects are finally on display at the San Francisco International Airport (SFO). The project named, "The Luggage You Carry" is a hand- crafted piece of luggage made out of clay, containing items that the artist would take with them if they had to leave somewhere suddenly.
"The Luggage You Carry" project was created by Visual and Performing Arts Department Chair and sculpture teacher, Martha Anne Kuntz. Her goal was for her sculpture students to design a suitcase with items that represent something meaningful, reflecting the artists' values and or interests.
Last fall, the project was announced to be displayed in SFO and since then, eight of the students' projects were chosen and photographed by Kuntz. The exhibit can be found in Harvey Milk Terminal 1. The photographed projects are lined up along the walls for travelers to view when walking around the terminal. Each photograph is paired with a description of the project's meaning along with the artist's name.
Sophomore Adriana Esguerra was among the eight students whose artwork was selected to be shown.
"When I heard that my piece was chosen to be displayed …, I was absolutely mind blown," said Esguerra. "It made me so happy and I knew it would make my family really proud because I have been doing art and paintings since I was a little kid."
Another NDB sophomore, Lauren Zerella's project was also selected to be displayed at the exhibit.
"I used the color purple for most of my luggage because purple is my favorite color and I feel that it represents me as a person," Zerella said when describing her project. "Some of the items I included are four pineapples, which represent the four members of my immediate family. I chose to use pineapples because we watched a television series in which pineapples feature in every episode."
Both sculpture students Zerella and Esguerra visited the terminal with their family to see the projects displayed.
"After seeing it in person it really showed me how lucky I am to have such an amazing art teacher like Mrs. Kuntz. I knew that this is an experience that I probably won't have again and being able to say that my artwork was displayed in the SFO airport is just an honor."
"I was really impressed to see my and all of my classmates' pieces displayed in a professional manner," Zerella noted.
Kuntz designed the project for her sculpture I class and was very impressed by their dedication and creativity while constructing their suitcases.
"It was the most satisfying, amazing feeling," said Kuntz. "To see it done professionally and hanging in a location with total strangers going by and looking at it, was the most awe-inspiring feeling I've ever had. I've had shows myself, but this was different because this was just a sculpture I class who really just brought it to the table and it's amazing."
Leave a Comment
About the Contributor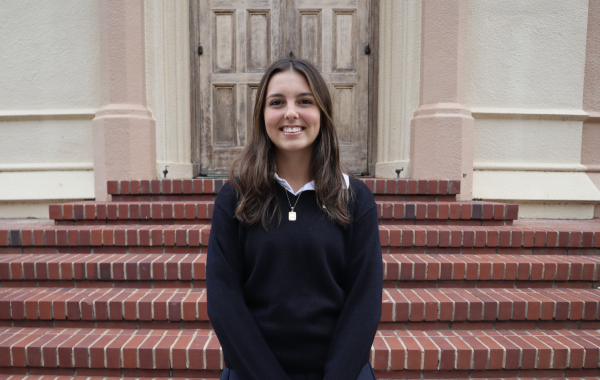 Mia Muzzi, Editor in Chief
Mia Muzzi is a senior at NDB and is in her fourth year of working for The Catalyst. She spent her freshman year as a Staff Writer, then during her sophomore...