Q&A with Interim Head of School Linda Kern on her time at NDB
The Catalyst (TC): What will you take away from your time at NDB?
Dr. Linda Kern (LK): The four main things that I will take away from NDB are my experiences with the Hallmarks, the phenomenally kind and talented NDB students, the many wonderful work relationships I've enjoyed in the community and finally, the school's incredibly innovative and caring response to COVID.
I continue to be impressed by the way the community strives to live out the Hallmarks daily, in both the smallest and the most important decisions.
TC: What are some of the biggest challenges that have come with leading a school remotely?
LK: Ironically, even though I worked off-campus due to family obligations, I never felt "remote" from the day to day operations of the school. On the contrary, the school's amazing Leadership Team and I were constantly connected – just about every minute of every day – through Zoom, Gmail, Google Chat, text and phone calls, etc. We work very well together, and everyone went above and beyond to ensure a streamlined and efficient response to every issue that came up. We had also learned a lot from the period when we were all online, and so I was easily able to participate in assemblies, liturgies and other school events, etc. That being said, I'm also very excited to be back on campus, in person, for all of the end-of-year events – including graduation!
TC: If you could give one piece of advice to the new Head of School, what would it be?
LK: NDB is so fortunate to have a passionate alumna and accomplished school leader like Mrs. Essalat coming in to help guide NDB in the next phase of its bright future – especially as we prepare to celebrate our 100th anniversary in 2024!
TC: What accomplishment are you most proud of regarding your time here?
LK: I am so incredibly proud of the NDB administrators, teachers and staff for their collaboration on the school's innovative, caring and highly effective COVID response. I joined the school just before the first COVID outbreak. And now, just as I'm preparing to move on, we are finally fully back on campus, with all of our events in person again (like Aquacades). What a journey!
As you may be aware, NDB was one of the first schools to respond with its online learning protocol, which not only worked well technically, but also thoughtfully integrated the best tools and strategies to support high quality online learning. Like many schools, our administration, teachers and staff were called upon to provide an online learning experience for students, which they had never had to implement before. It's frankly miraculous how everyone stepped in, and made the impossible happen – with a generosity and graciousness that I will never forget.
TC: Looking back at when you began your work at NDB, what surprised you the most throughout your time here?
LK: As I've mentioned in some previous Tiger Talks, I was originally drawn to NDB for three main reasons: (1) the school's mission to empower young women leaders, (2) rooted in a faith-based tradition, (3) in the heart of Silicon Valley – where many organizations are actively shaping the present and future of the world.
However, as I have also mentioned at Tiger Talks, I was surprised to learn about one more of the school's greatest strengths after I arrived on campus: Namely, the NDB community. One of NDB's greatest superpowers is certainly its incredibly warm, welcoming and strong sense of community. Over and over again, I hear and live the strength of this NDB community, which I'm so grateful to have experienced.
TC: What are your plans going forward?
LK: Building on the success of NDB's online learning protocol, I'm excited to be moving on to develop new digital tools that give teachers more time to teach, and students more access to learning. Students and teachers across the nation are asked to do so much more than ever before, but often without being given more time in the day or more resources to accomplish it. Having seen firsthand the many challenges that schools are facing, my mission is to design edtech that supports the very important human side of teaching and learning. If you're interested in learning more, please don't hesitate to contact me!
Leave a Comment
About the Contributor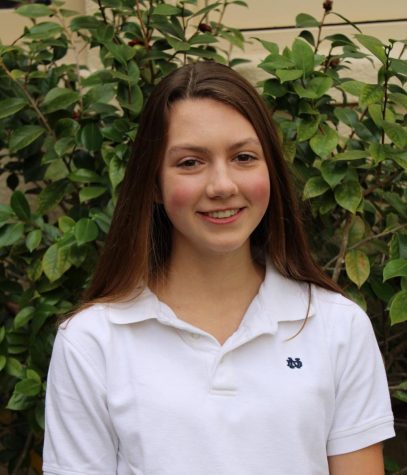 Peyton Daley, Editor in Chief
Peyton Daley is a senior and this is her third year as a Catalyst writer. She served as Arts & Life Editor her sophomore year and Managing Editor her...