Class gathers for Senior Day of Reflection
On Monday, May 16, the Spartans visited St. Bartholomew's Parish Community in San Mateo for a Senior Day of Reflection. The retreat was an opportunity for the class to bond with one another and say goodbye to each other before they graduate on June 4. Organized by former Dean of Student Life Carolyn Hutchins and Director of Mission and Ministry Amy Jobin, the day was full of activities, speeches and time for prayer or reflection.
"We just want seniors to have a chance to spend a day together without having to worry about school and books and other things going on in their life, but just really be able to focus on being together to enjoy and appreciate one another's friendship and hopefully the camaraderie that's been shared among people in your class," Jobin said. "This is a time for them to say goodbye to one another, to get ready to say goodbye, and maybe to start thinking about their future and what is, you know, what is my next step going to look like on my journey."
In the morning, senior Christyn Refuerzo delivered a speech to her fellow Spartans regarding her time at NDB and what she will miss most about the community on campus. She focused on themes of resilience and trust.
"I was definitely really nervous [about giving the speech], and I got the email to write the speech around like early April," shared Refuerzo. "So I was working on it for a while. It was difficult to write, but I feel like it ended up working out. Actually, fun fact, I wrote it at midnight on a day during spring break. I was just like, up at midnight, and was like, I should write the speech now, so that's how it came about."
Refuerzo's speech touched all the seniors and helped set the tone for a day full of reflection and grateful appreciation of the years they shared at NDB.
"Looking at my friends when I said certain parts was like, really heartwarming, and seeing their faces smiling and the tears was really cool," Refuerzo added. "It was amazing [to receive positive feedback]. That was crazy."
Afterwards, the Spartans were split into small groups of around five to ten students led by faculty facilitators. In these groups, the seniors reflected on their experiences at NDB by decorating a poster, picture frames and even creating short skits about their years in high school which they performed for the rest of their class. "I really liked my small group. I was actually surprised because I thought, I am not going to like it," said Karla Aguilar. "But it was honestly so nice, because it was a very, like, honest, real discussion."
The smaller group discussions gave the seniors a chance to get to know each other better before graduation as they went through a series of icebreaker questions.
"I think my favorite part was just getting to talk to people who I don't usually talk to in our small groups," said senior Hayley Stuart. "I think it was a good way of just talking about things that we don't usually talk about and saying goodbye because I feel like I don't usually do that."
Jonathan Tomczak and Gina Kipilman also appeared as "surprise" guest speakers. Their speeches discussed loss, the importance of living in the presence, and how to say goodbye. Each of these topics were relevant to the seniors at this point in their journey, and resonated with them for that reason.
"I really liked [Kipilman] talk, and even though it was pretty sad in the beginning, I liked how she connected saying goodbye to her old friend to saying goodbye to Notre Dame as a whole," explained senior Rebecca DeMeo.
Leave a Comment
About the Writer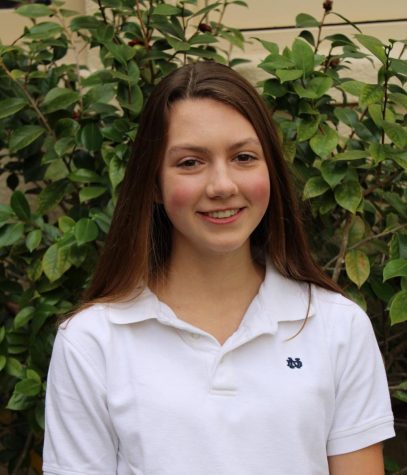 Peyton Daley, Editor in Chief
Peyton Daley is a senior and this is her third year as a Catalyst writer. She served as Arts & Life Editor her sophomore year and Managing Editor her...