New ASB officers elected to lead next year's student body
On Friday, April 29, NDB held its annual Associated Student Body (ASB) election to name the officers for the 2022-2023 school year. Several juniors delivered speeches to the current freshmen, sophomores and juniors who voted on who would best lead the school next year. By the end of the day, it was announced that Amelia Ailanjian, Lauren Fitzgerald, Kassie Hickson, Sophia Rask, Caitlynn Reynolds and Zeina Zumot would become next year's ASB.
Throughout the weeks leading up to elections, the candidates worked hard to prepare their campaign speeches and posters. Out of the twelve junior candidates, three were unable to deliver a campaign speech on election day in-person, so a virtual option was provided.
"Having to give my speech online, I felt really crushed. I worked really hard on that speech, and I was worried that not being in-person to deliver it would hurt my chances at winning the election," expressed Fitzgerald. "I think it worked out in my favor though, because there isn't much that says 'I'm dedicated' more than delivering a speech with COVID-19 and a 102 degree fever."
Delivering a speech virtually was a challenge at first, as some candidates were worried that it would put them at a disadvantage. Fortunately, they were able to record their speech as a video and have it played along with the rest of the speeches.
"I was out of town the day we were supposed to give our election speeches, so I had to pre-record mine. To be completely honest, it took a few takes to get a good video, but I was happy with the outcome. I am really looking forward to ASB next year and I can't wait to plan spirit events that everyone can enjoy!" Hickson said.
Being part of ASB at NDB is a huge commitment and responsibility. Between organizing spirit events, leading underclassmen, and being the face of the school, ASB dedicates hard work, time and focus to their duties throughout the year.
"I am super excited for all the time I'll be spending with my fellow ASB officers, and I'm super excited to get to know them better," shared Ailanjian.
As school spirit at NDB is incredibly important, the ASB officers hold a lot of power. They are responsible for organizing spirit rallies, spirit weeks, spirit points and most
importantly, Aquacades. Because of the many challenges that have risen over the past three years due to the pandemic, the rising seniors have their expectations set high in regards to spirit.
"I'm really excited to start off the 2022-2023 school year strong with lots of spirit, as I have many ideas for rallies and especially spirit weeks in the future," said Reynolds.
Although these six new officers have relative freedom in how the 2022-2023 school year plays out for the student body, they will surely continue the excitement and NDB pride that was reinstated by the previous ASB following the COVID-19 lockdown.
"I had such a great time participating in all the activities that ASB organized for us this year and in the past years, that I want to do the same for the other classes. I am most excited to plan Aquacades with the other girls on ASB and I can't wait to start in the fall!" Zumot said.
It is clear that the six new ASB officers are passionate about their leadership responsibilities. By the end of the school year, each officer will be informed of the specific position they will hold. The President, Vice President, Director of Communications, Director of Athletics, Director of Spirit and Director of Activities will work together with the students, faculty, staff and administration to create the exciting and comfortable environment NDB is known for, next year.
"Participating in student leadership has been something I've loved doing all three years I've been here. I love being a part of all the fun school events, so I am extremely excited to be one of the people planning them," explained Rask.
The entire NDB community is looking forward to a spirited 2022-2023 school year led by the eager new ASB officers.
Leave a Comment
About the Contributor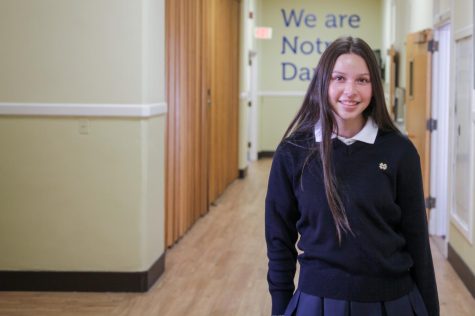 Molly Phan, Editor in Chief
Molly Phan is a senior at NDB and it is her third year with The Catalyst. She was involved in the journalism club her sophomore year and served as the...