The end of Sparta
The Class of '22 has certainly had a challenging time in high school. Three out of their four years at NDB were affected by a global pandemic. One of those years was spent entirely behind computer screens rather than in the classroom with their peers.
However, the Spartans have not let COVID-19 alone define their high school experience. Their junior year was spent away from campus, but they returned for their final year ready to take on the responsibilities of the senior class and lead the underclassmen through NDB traditions. Now, as they prepare to graduate from NDB and take the next steps towards independence, the seniors look back over their time in high school with bittersweet memories.
At their first rally as freshmen in August 2018, the Class of '22 earned the reputation of being "unspirited" when they mainly sat on the gym's bleachers and watched the other classes instead of standing and cheering. Unsurprisingly, they came in last place at the event, the beginning of a pattern of losses for the Spartans.
Though they were continuously placing fourth, as the year went on their appreciation for spirit activities grew.
"I remember my freshman year Dingbat rally in particular was especially exciting for my freshman year self. I recall the 2018-2019 ASB putting on a really scary but fun and immersive rally and from that day on just feeling extremely excited for the many other rallies I would have during my time at NDB," shared current ASB officer Marissa Bergquist. "If I remember correctly, the rally was IT themed and it was completely dark inside the gym and then all of a sudden Serra boys came out of the bleachers with bats to scare all the students."
As freshmen, the class fully embraced the opportunities on campus, joining clubs and teams, trying new activities, meeting new people and most of all, learning. They found their place at NDB throughout the year, and when it came time for Aquacades, they went into the event extremely excited.
Even though they came in last that night, the Spartans were proud of the effort that they put into their routines and of the spirit that they displayed in the stands. When cheering on their classmates in the poolside bleachers, the class finally found a sense of unity. They went into their sophomore year ready to no longer be the youngest students on campus and looking forward to performing better in their next Aquacades.
Then, right before Aquacades 2020 was set to take place, the school moved completely online due to the initial spread of COVID-19 in the U.S. The then-sophomores had to quickly adjust to remote learning, life without sports or other extracurricular activities and not seeing their classmates in person.
Junior year is often regarded as the most difficult year of high school due to the heavy workload and the pressure of the upcoming college application season. The Class of '22's junior year came with its own set of challenges, mainly marked by Zoom fatigue, rampant COVID-19 outbreaks, socially distanced extracurriculars and virtual finals and AP exams. They did not get the chance to fully enjoy their new status as upperclasswomen by sitting inside the dining hall to eat lunch or by leading their younger sisters, the Dragons, through their first spirit rally.
"I think that being online our junior year created some distance in our class as a lot of us weren't really seeing each other during the year," stated senior Olivia Semien. "It seems that a lot of us are ready for more independence in college and are just getting through senior year."
The Spartans lost a full year of social events, and also a year of sitting together at lunch and passing each other in the halls. Although this in some ways limited their ability to bond as a class, it also formed a connection between them since they all got through it together (albeit not physically together). They entered into senior year grateful for the opportunity to return to in-person learning and excited for their remaining time at NDB.
The Class of '22 kicked off this year with the Senior Honor Ceremony to replace the Junior Ring Ceremony NDB was unable to hold the previous year. This event gave the class a chance to celebrate their academic, athletic and personal achievements and their transition to being upperclasswomen.
During the fall semester, the Spartans struggled through the college application process, and in the spring they got to finally be rewarded for their efforts with acceptance letters. They were eager to share their college decisions process with their classmates.
"I am most proud of our class for sticking together and getting to this point. I am so excited for everyone as we are looking towards college and am proud of the community our class has created throughout our time at NDB," explained ASB officer Ali Lewis. "Being on student council has been an integral part of my high school experience and has been a huge part of my identity at NDB. I have been on student council since freshman year and I think that has given me a different perspective into our class and how we have grown in our spirit for the school and in our relationship as a class."
"I have several favorite memories from this year as a class. From the senior sunrise to our senior prom, I will always remember my time at NDB," senior class president Schyler DeWitt reflected. "But, senior college day, where everybody wore their college sweatshirts, has to be my favorite memory. It was so special to see where everybody is off to next year."
April 8 was the Spartans' second and final Aquacades.
"Being at TVcades really took me back to Aquacades in freshman year. I'm really grateful we were able to have Aquacades this year," said senior Ashley Lau. "I'll always remember the class picnics, and the ringing in my ears from all the shouting in the stands. It was an experience I'll never forget."
Being seniors and the only class to have experienced an Aquacades before, the Spartans were expected to come out victorious, but ended up receiving last place for a second time.
"Getting fourth place at Aquacades was super disappointing. We put in a lot of work to our routines and spent a lot of hours working behind the scenes, so I wish our dedication was seen by judges," DeWitt added. "Not to mention, our class's time at Notre Dame has been deeply affected by the pandemic, and I wish the judges had given us some empathy points."
The night was a fitting representation of the Spartans' notorious inability to cheer louder than the red and purple classes. Yet, what they lack in vocal range the Spartans make up for in other ways.
"I think one of our classes biggest strengths is perseverance as we have faced many obstacles such as the pandemic to get to our senior year but we were able to do it nonetheless. I also think our class is very welcoming and that kindness is a huge strength," said Lewis.
The Class of '22 may not be remembered for their spirit, but they will be remembered for their leadership, warmth, academic excellence and engagement throughout their time at NDB.
Leave a Comment
About the Contributor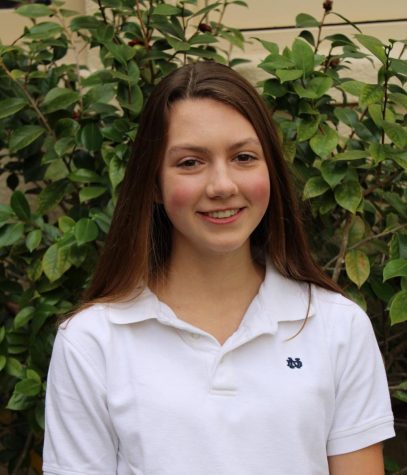 Peyton Daley, Editor in Chief
Peyton Daley is a senior and this is her third year as a Catalyst writer. She served as Arts & Life Editor her sophomore year and Managing Editor her...