Senior athletes head off to collegiate sports
Each year, NDB celebrates the high-achieving athletes who have made the decision to continue their athletic and academic careers in college. For the Class of '22, Catherine McGuire will play soccer at the California State University, Chico, Taleah Mendoza will play soccer at Holy Names University and Sage Saperstein will attend the University of Southern California for rowing.
Having the opportunity to play a sport at the collegiate level is a huge accomplishment and an important decision for seniors, and McGuire, Mendoza, and Saperstein were celebrated during Senior Signing Day in March.
These athletes have worked especially hard during the college recruitment process because there were a number of pandemic-related obstacles that needed to be overcome. Since 2020, the timing of sports seasons varied, travel was restricted, and visiting schools or coaches in person was difficult.
"College recruiting during COVID was one of the most stressful experiences I have ever been through and I was incredibly fortunate to be able to have everything work out," said McGuire. "But I definitely acknowledge that a big part of my recruiting success was due to reaching out to coaches at the right time and happening to have a lot of game film and accolades from high school."
The journey to get recruited does not just take hard work physically. Along with hours of practice, conditioning, and strengthening every day, athletes must overcome mental obstacles. Lack of confidence and focus on a sport can be some of the most significant challenges for athletes throughout their careers.
"
I think one thing that has helped me become a better player recently was really working on loving the sport"
— Taleah Mendoza
"I think one thing that has helped me become a better player recently was really working on loving the sport. I try my hardest to enjoy the practices," shared Mendoza. "Another thing is to not be hesitant to over-exaggerate your excitement. This helps get others' energy into the game and puts everyone in a better mindset while also building confidence."
Between joining new teams, building new friendships, and learning new skills these athletes are incredibly excited to move on to bigger and better things in college.
"To any high-school athlete who is thinking they want to play in college, know that the recruiting process may be tough and seem never-ending, but you will always end up where you are supposed to be with a little hard work and persistence," said Saperstein.
McGuire, Mendoza, and Saperstein have worked hard to become collegiate athletes and the community is looking forward to seeing them succeed beyond NDB.
Leave a Comment
About the Contributor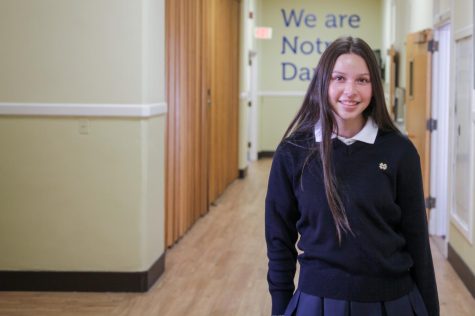 Molly Phan, Editor in Chief
Molly Phan is a senior at NDB and it is her third year with The Catalyst. She was involved in the journalism club her sophomore year and served as the...