Q&A with Parker Daley, '20, about Aquacades
The Catalyst (TC): What is your favorite memory of Aquacades?
Parker Daley (PD): Freshman year, my class entrance, because I got to carry in the inflatable gator, since my class was the Gators! The Royals were the seniors, and they were a notoriously good class, like, really spirited. So, it was a ton of fun to have them as an example and watch what they did.
TC: Did your sister class help you learn more about Aquacades as a freshman?
PD: Yes, one of my water polo teammates was on her class council, and she was a junior while I was a freshman, so she helped my class a lot and she gave me advice on my group swim routine.
TC: When did you participate in Aquacades routines?
PD: Freshman year I was in group swim, and sophomore year I did group deck. I liked swim better because I was on the water polo team, so it was fun to do a routine in the pool I practiced in every day.
TC: How did you find participating in routines compared to being in the stands?
PD:I really liked participating in routines both freshman and sophomore year, but I'm glad that my junior year I didn't do a routine because it was so fun to not be worried about performing and just cheer on the classmates and be with my friends the entire night.
TC: What was your favorite Aquacades theme over your time at NDB?
PD: I really liked sophomore year when the theme was music festivals, and we had country music because it's one of my favorite genres of music. And so we wore cowboy hats, cowboy boots and jean shorts.
TC: What advice would you give to the freshmen, sophomores and juniors who have never been to an Aquacades before?
PD: I would say go into it expecting it to be way more energetic and spirited than you would think. A lot of people are like, "Oh, it's high school. No one gets into pep rallies and stuff," and that is absolutely not true. With Aquacades, people are so into it, and it's fun. All the alumnae are just as into it as well.
TC: What advice would you give the senior class as they go into their second Aquacades as upperclassmen this time?
PD: Well, when my class was the junior class, we were kind of a disaster, and we got last. So, I don't know if I'm super qualified to give this advice. But, I would just say try your best and don't worry about winning. Just try your hardest. I know that you missed Aquacades a couple of years, which is a bummer, but you are the only class that has done it before. So, go all out and set the expectation for the other classes.
TC: Why do you think that Aquacades is important to the NDB community?
PD: I think it fosters a sense of community because we have alumnae come back. It's basically like the equivalent of homecoming since NDB doesn't have a homecoming game or anything. It's really fun to have alumnae come back and judge it since they remember their Aquacades and how much fun it is.
I know a lot of my friend's parents were who were Notre Dame alumnae still talk about what their themes were and what routines they did. So, it obviously left a really big impact on them. It also just brings everyone together at the end of the year when school is tough so that you have something really fun to look forward to.
Leave a Comment
About the Contributor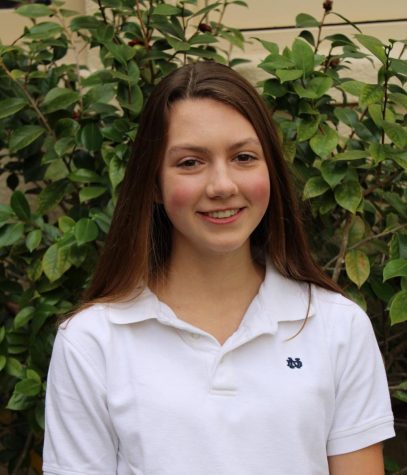 Peyton Daley, Editor in Chief
Peyton Daley is a senior and this is her third year as a Catalyst writer. She served as Arts & Life Editor her sophomore year and Managing Editor her...