Juniors celebrate the Roaring '20s with the Gatsby Ball
The Gatsby Ball is an NDB tradition that graces the junior class every year. Right after all of the 11th grade English classes, both AP and college prep, read The Great Gatsby, the English department hosts the Gatsby Ball for the juniors to enjoy. This year the Gats-
by Ball was on March 10.
Jay Gatsby is one of the main characters in F. Scott Fitzgerald's novel. He is known for his extravagant parties attended by hundreds of people in his enormous house. The English department tried to recreate this luxury for the event.
This NDB tradition requires dressing like the time period of the novel and pretending to be at one of Gatsby's parties. Students dress up like flappers and don pearl necklaces with extravagant headpieces. This night is intended to be a night of fun and an opportunity for the junior class to relax and bond with one another.
They enjoyed a dinner of chicken strips, French fries, and pigs in a blanket, along with sparkling cider and sorbet for dessert. There was also a live band called Stompy Jones, and students had a lot of fun dancing. Along with the music, there was a game room and movie room. Students switched between playing card games, like poker and black jack, and watching the film adaptation of the novel.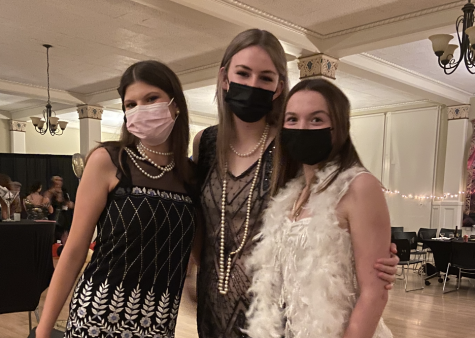 "It was definitely fun. There were a lot of different things going on, like board games, card games, stuff like that. Everyone looked really nice, and it was fun to dress up," shared junior Melanie Castelli. "The decorations were really cool, and they had a live band, which also made it feel more realistic because everyone was dancing and having fun."
The class also came together in the middle of the event for a toast with a speech from the class president, Kassie Hickson.
The costume contest was a huge hit and students were really excited to get decked out in flapper dresses and pearls. The juniors really enjoyed the photo-ops and posed with their friends for all kinds of fun pictures.
"I was not expecting NDB to go all-out for the Gatsby Ball, and I was surprised that every student was wearing the flapper dresses like I was," said junior Kendall Duffy.
The Gatsby Ball was overall a very entertaining and unique event. The juniors really appreciated being able to have this fun event in-person for the first time in two years.
Leave a Comment
About the Contributors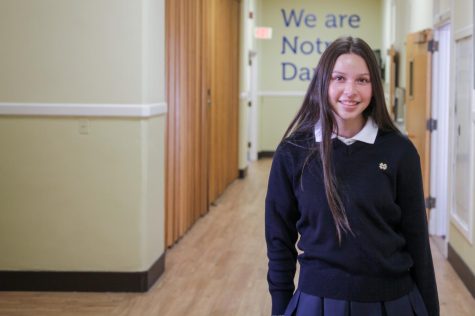 Molly Phan, Editor in Chief
Molly Phan is a senior at NDB and it is her third year with The Catalyst. She was involved in the journalism club her sophomore year and served as the...