Celebrating Women's History Month at NDB
Women's History Month, spanning from March 1 to April 1, was an opportunity for the NDB community to recognize the accomplishments of female role models of the past and also promote future generations of leaders.
"As a school founded by women for women, this is a particularly exciting time to celebrate the women who have come before us, and upon whose shoulders we stand," said NDB Leadership in a document shared with students and parents at the beginning of the month. "Throughout history, women have continuously taken risks, and led and responded to the needs of their communities. At Notre Dame Belmont, we pay special tribute to Saint Julie Billiart and Francoise, whose partnership founded the Sisters of Notre Dame de Namur."
Each school day of March, students were sent inspirational quotes from female activists throughout history, including Malala Yousafzai, Maya Angelou and Rosa Parks. Resources including books, movies and digital exhibits were also shared by the Intersectional Feminist Club.
"The Intersectional Feminist Club celebrated Women's History Month with the intent to encompass as many different identities as possible. That includes BIPOC women, trans women, women with disabilities, etc.," explained senior Karla Aguilar. "By doing so, we acknowledge the different types of injustices which women face all around the world. We may not all be inherently aware of each other's struggles or pain, but we can each do our best to inform ourselves and work towards change that can benefit all of us."
On March 8, International Women's Day, NDB hosted guest speaker Loriene Roy over Zoom as part of this year's new DEI: Together We Thrive program. Roy is a professor at the University of Texas, Austin where she teaches and studies literacy, librarianship and indigeous stories and artifacts. During her presentation, she offered insight into her experiences both as a woman and a member of the Minnesota Chippewa Tribe.
NDB's Community Service Program organized the annual Sanitary Tsunami Drive, held on March 18, to support the women of the Catherine Center with donations of sanitary products.
On March 28, another speaker visited campus. Serena Rao, Associate Dean for Finance and Administration at Stanford University, talked to students about her career and how taking risks has enabled her to grow.
"One thing that I found particularly interesting about Rao's talk was that she did not tell people to push through the problems that they may come across in life," shared senior Emma Treanor. "Rather, she encouraged us to be brave enough to take a step back once in a while, to assess our paths and make changes if need be."
Leave a Comment
About the Contributor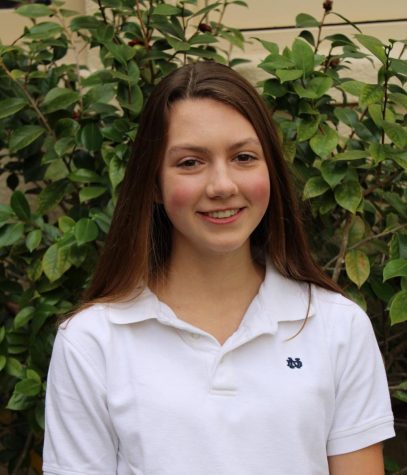 Peyton Daley, Editor in Chief
Peyton Daley is a senior and this is her third year as a Catalyst writer. She served as Arts & Life Editor her sophomore year and Managing Editor her...