Podcast: "Getting Thru" supports mental health
"Getting Thru" is a podcast hosted by Andrea Sonnenberg and tackles the subject of mental health in young adults. The Catalyst met with Sonnenberg to discuss her podcast and share with NDB's community the awareness she brings to mental health, one episode at a time.
After losing her 21 year old son, Bradley, to complications resulting from multiple psychiatric medications, Sonnenberg decided she needed to do something to help others in his honor. Through her grief, she figured out that she wanted to tell people's mental health success stories. Sonnenberg realized the best way to do this was to create a podcast.
"I wanted to look at the positive aspects of it all. Because I felt like just the negative is not the whole story, and that there are positive aspects to peoples' stories," said Sonnenberg. "There are people that are getting through, and that's why I came up with the title because I realized that."
Sonnenberg's purpose is to give people who are struggling hope. A lot of the time, the tragic stories are the ones told, those stories where families lose their sister, their son or a parent.
Her goal is to highlight strong young men and women who have battled with their mental health, but made it through all the adversities thrown their way.
"Part of what my mission is, is to normalize what people are experiencing and create a community so that we all share resources, share stories and create empathetic communities where we support each other," she commented. "So that's kind of how that's how I got started and the irony is that I'm interviewing all these people about how they're getting through, and I realized that it's helping me."
"People's stories of things that you couldn't even imagine going through, and surviving and not just not just surviving, but thriving," reflects Sonnenberg. "It's what inspired me to try to look at the positive side of what we're going through and try to offer hope and inspiration and a path forward for other people."
Not only do these people's stories affect Sonnenberg. They also have a large impact on "Getting Thru's" listeners.
"[The podcast] is a way to feel less alone. It's a way to feel inspired. It's a way to realize how others have accomplished things that you want to accomplish yourself. And, I think it gives you a path. They also share ways you know modalities and mindfulness techniques," Sonnenberg added.
The unique angle and formatting of her podcasts is what sets her apart from other podcasts about mental health. Each episode's title is the name of the young adult she interviews. Every episode is full of touching stories and the people who tell their stories are incredibly honorable. Together, her and her guests tackle topics like coping with Obsessive Compulsive Disorder or surviving a terrorist attack. While she keeps the interview in the episode, she also adds in her own narration to help move along the story, making it more compelling for the listener.
"There's nothing to be ashamed about and that's something else that I really promote… We need to create parity between mental and physical health. One impacts the brain, one impacts a different part of the body," stated Sonnenberg.
"It's a shame to know that, if you have a physical illness, for example someone breaks their leg, everybody goes and gets a cast on their leg. If someone has a mental health issue, only 60% of the population go and get the help they need."
"Getting Thru" is available on a multitude of platforms, including Apple Music, Spotify, Amazon Music and iHeartRadio. Their Instagram @GettingThruPodcast is also a hit as Sonnenberg goes online and continues to share stories of those not on the podcast.
Sonnenberg is excited for her future in the mental health industry and, with "Getting Thru," she hopes to grow her community even more and eventually lead a retreat so everyone can let loose and enjoy their time with each other. She also hopes to host a conference at NDB to speak to the students about mental health.
Listening to the success stories shared on "Getting Thru" will change your view on mental health for the better.
Leave a Comment
About the Contributor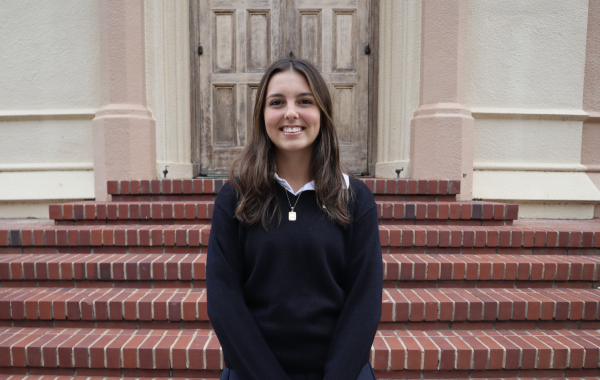 Mia Muzzi, Editor in Chief
Mia Muzzi is a senior at NDB and is in her fourth year of working for The Catalyst. She spent her freshman year as a Staff Writer, then during her sophomore...