NDB hosts DEI speaker Dr. Loriene Roy
On Tuesday March 8, NDB hosted Dr. Loriene Roy to speak as part of the Diversity, Equity and Integrity (DEI) program. Roy is enrolled on the White Earth Reservation in Minnesota, part of the Minnesota Chippewa Tribe, and is a professor at the University of Texas at Austin and the University of Hawaii at Manoa where she teaches about indeginous librarianship. She joined the NDB community via Zoom during Collaboration, where students could participate from their homerooms.
The presentation took off with an introduction by junior Clarissa Wing who talked about her connection to Roy because of their shared appreciation for their diverse backgrounds.
"I come from a diverse background as I am half Mexican, a quarter Chinese and a quarter Caucasian. Growing up, I enjoyed being able to express my blend of cultures as I did not know many people who had the same multicultural background as me," Wing said.
Roy's presentation took place in the form of an interview. A team of students, Jessica Ai '24, Tiana Pan '24, Bella Topalian '23, Angela Rosentha '24 and Emma Rasmussen '23 constructed a series of questions to guide Roy in an insightful discussion about her experience as a Native American growing up. She shared stories about being part of the only native family in her town and about her struggle having to "live in the background."
Despite her times of struggle, Roy continued to emphasize the impact of her culture and that she is proud to be Native American.
"The language is a point of pride," Roy shared. "Our language is alive. We don't have as many fluent speakers, but the efforts are being made."
Roy's work as an educator consists of not only teaching courses, but guiding and inspiring her students just as she has done in the NDB community. Her presentation was an important addition to the DEI program, especially during Women's History Month as NDB is celebrating women in diverse cultures.
Immediately following the presentation, students had the opportunity to reflect on Roy's experiences in an interactive and collaborative activity in their homeroom. They were asked to make connections with her stories, and think about what society can change to embrace diversity.
Leave a Comment
About the Contributor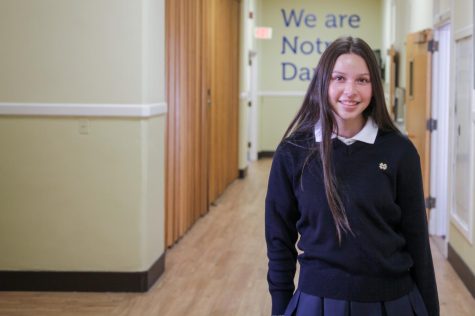 Molly Phan, Editor in Chief
Molly Phan is a senior at NDB and it is her third year with The Catalyst. She was involved in the journalism club her sophomore year and served as the...