How to find success with New Year's resolutions
The new year comes with a clean slate. Each year on January 1, people around the globe put everything that happened in the previous year behind them and focus on bettering themselves during the upcoming 365 days.
Between physical health, school, sports, careers and working to improve mental well-being, many have ambitious goals as well as high hopes for what is to come in 2022.
Although less than ten percent of people follow through with their goals by the end of each year, here are some tips on how to actually be successful with a New Year's resolution.Choose a realistic and meaningful goal. New Year's resolutions are ultimately for self improvement, so it is helpful to reflect on personal experiences from 2021 that you may want to improve on in 2022 to come up with something that is important to you.
For example, if you care a lot about your success academically, but felt as though you earned lower grades than you were expecting to get in 2021, it would be meaningful to challenge yourself to work harder and spend more time on school work in 2022. Think back to your habits last semester. Did you complete all of your homework on time? Did you study hard enough for your big exams? Fixing small habits like homework and studying can bring you closer to your academic goals in this new spring semester. These goals must also be attainable so that it is not easy to become discouraged. Do not expect to meet a goal like becoming a millionaire in a year while still in highschool.
Track your progress! Keeping track of where you are in terms of your resolution is essential to stay organized and motivated. Using a calendar or planner that can remind you to "drink water" or "go for a run" can help push you to meet your 2022 health goals and also allow you to see how far you have come.
Reward Yourself. It is especially important to remember that New Year's resolutions are meant to challenge yourself yourself to be better and are not for punishment. Do not push yourself to the point where your goals are working against you. Set miniature goals throughout the year, and treat yourself, like watching an episode of your favorite Netflix show at the end of the night after completing all of your homework.
Do not give up. If you realize that it is going to be too difficult to stick with your resolution, remember that it is okay to alter your goals and make them easier to reach. Being successful just means remaining positive and feeling better about yourself throughout the year.Do not be too hard on yourself. The final, and most important step in being successful in 2022 is to not compare yourself to others.
Everyone has a different goal they want to reach during this new year. Everyone works, thinks and acts at their own pace. Know that you are doing this for you!
Leave a Comment
About the Contributor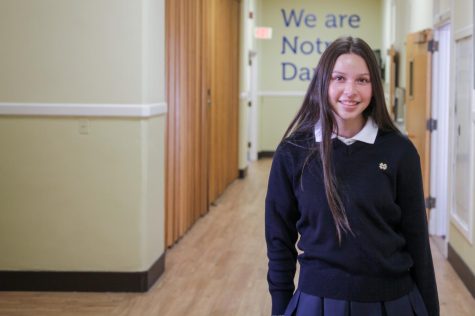 Molly Phan, Editor in Chief
Molly Phan is a senior at NDB and it is her third year with The Catalyst. She was involved in the journalism club her sophomore year and served as the...