Featured Athlete: student playing sport outside of NDB
Although there are many sports offered at NDB, some students play their sport of choice outside of school. A prime example of this is Katie Homrig, NDB Sophomore, who is a coxswain for Norcal Crew in Redwood City.
Homrig's team, Norcal Crew, have had the option to travel for their races. The most upcoming race for Norcal Crew takes place over president's weekend, and is called The President's Day Regatta. They most recently went to Seattle, Washington and will soon participate in races in San Diego and Sacramento, with their final trip to national qualifiers in May. Katie's team placed well in their last race, enabling them to rank higher in the current season.
"In the other ones it sorts us by thing, it kind of defines your team like your team's rank, for example, my team placed fifth for a women's four and a men's eight in the Head of the Charles which is a massive international Regatta."
Not only does crew require competitions and traveling, it also requires a large commitment in terms of practice schedule. Katie shares when her practices are, and what her practices consist of as they fit in with her current school schedule. "So currently we are in an afternoon model but generally we have practices every morning at 5:30 to 7:30 and then we have a Saturday morning practice from 6:30 to 10:00. And we have afternoon practice usually one day a week, that's for about two to three hours. Usually, we have water practice five days a week and land one day a week."
Katie shares what she loves and what is challenging about crew, especially with such a vigorous practice and competition schedule. "For me personally, I think it's hard. It's hard to keep going sometimes. I mean, I love the sport, but you have to love it. I see other people being better than me, and so like, this sucks. And, you know, you have to kind of go in a larger picture and say 'Okay, well, I could quit right now. Or I could sit here and be helping my team.' So it's a lot of teamwork and learning how to work with other people." Katie also shares what she has had to work at most throughout her crew experience, "Honestly, it's the team aspect. When I first got into it, I was like, there's no way I'm gonna like a team sport like I'm gonna hate it. I love it. Like, it's 5:30 and it's pitch black. Everyone just wants to go back to bed. And you're all just kind of in it together. At the end of a piece, I'm a coxswain so I don't do as much of the physical work, but I'm just as tired mentally as they are physically and so you kind of feel everything together and traveling together is just a great bonding experience, and I think it's a really supportive environment for sports."
Lastly, Katie describes what her overall experience of her sport is. "It's a lot of an improvement curve. You learn a lot more than you think. It's very exciting to see your friends work hard at something and succeed. And crew's hard. It's very hard but you grow to love the sport and I think that it's just a really good experience." All the time spent that Katie has practiced and dedicated to her team has paid off, for her and for her team. The best part is that through all the challenges and early mornings Katie has still found a way to love what she does, and wants to keep participating in NorCal Crew for as long as she has a passion for it.
Leave a Comment
About the Contributor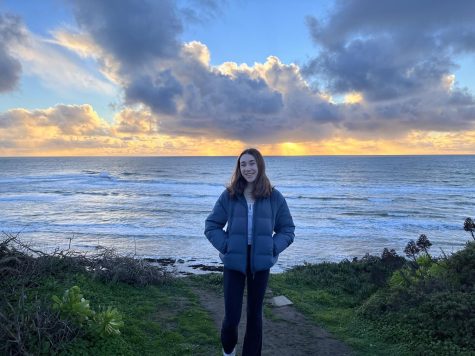 Kayla Messick, Staff Writer
Kayla is a sophomore at Notre Dame High School. She plays volleyball for the school, and is a Staff Writer for the school newspaper.

Kayla loves to...