Basketball hosts Alumnae Game
The NDB varsity basketball team's annual Alumnae Game took place on Wednesday November 24 to kick off the 2021-2022 season.
The Alumnae Game is an extremely important tradition for the NDB basketball athletes of all generations. Before their league games start, the varsity team plays against a group of NDB alumnae of various ages who played basketball during their high school years. This year, the alumnae team consisted of women who graduated in the last twenty years, with the oldest player being Jackie Nelson, Class of '00.
"I enjoy playing in the Alumnae Game every year I'm home. Getting to reconnect with old teammates, coaches, teachers, families and more is always fun. It reminds you why we all decided to play basketball at Notre Dame in the first place," said JV coach Megan Smith, Class of '15. "Being a coach at NDB and getting to play in this year's game added another layer of enjoyment and made it really special. Not only did I get to play the sport I love with some old and new teammates, I also got to play against girls who I've coached for the past two years. I'll be looking forward to doing it again next year!"
Because many of the alumnae knew or have played with the varsity players, the game was partially fun and friendly, but mostly competitive. For the team, it was an opportunity to run plays, practice defense and prepare for their upcoming pre-season games that would begin the following week. The alumnae had the chance to show off the skills they still had from their NDB basketball days.
The dynamic between the high school players and the alumnae during the game is exciting each year.
"At first, I was pretty nervous knowing that they were older and experienced, but when I started playing it was pretty fun," said freshman varsity player Sofia Kwan.
The twenty-four minute game ended up close, but the varsity team came through and beat the alumnae 21-19. Afterwards, the players from both teams as well as coaches and families were invited into the dining hall for a dinner to catch up and celebrate the Alumnae Game tradition. The game was a great way for the Tigers to kick off their season and reunite with past teammates.
Leave a Comment
About the Contributor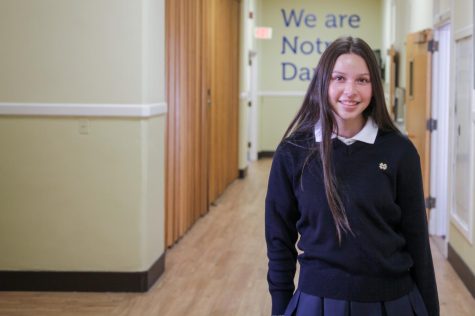 Molly Phan, Editor in Chief
Molly Phan is a senior at NDB and it is her third year with The Catalyst. She was involved in the journalism club her sophomore year and served as the...