Q&A: Tri-School Productions actor
The 2021 Tri-School play is The Alibis. The Catalyst interviewed NDB freshman and first time Tri-School actress, Sara Muzzi.
The Catalyst (TC): What is your role in the Tri-School play?
Sara Muzzi (SM): I have three roles; I am the Child, I am the Tin Man, and I am an arms dealer.
TC: How did you decide to participate in the play?
SM: I joined musical theatre class here, and my second choice was drama, and I was just going into high school. I was interested in just doing theatre and my friends who were in drama said Mr. Long was really nice, so I decided to try out.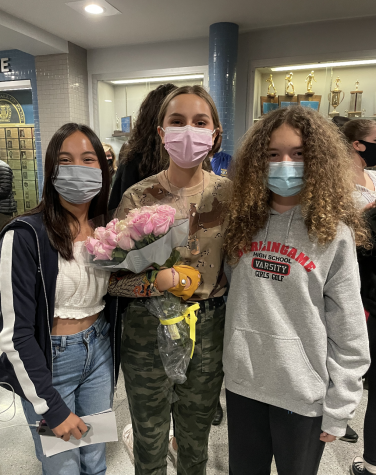 TC: What were the auditions like?
SM: For me they were really stressful because I don't like public speaking. The primary audition is in front of three adults, and we had to choose a comedic monologue because it's a comedy show. And then you would go to callbacks, which were in front of everybody that made callbacks.The next day was the first day of rehearsals.
TC: What are rehearsals like?
SM: They're usually from 3:30 to 6:00 and for COVID, I don't know if it's like this normally, but we work each scene on a different day, it doesn't go in any particular order, and some scenes require more time, like one of the scenes I'm in is a lot of movement, and so we have to get it down really, really quickly for the show, the timing and everything. And right now it's 3:30 to 7:00 because we run the show every single day all the way through. But rehearsals are fun.
TC: How much time does the play take up?
SM: This year it was a little bit longer. Because of COVID and everything, there were some scheduling issues. The rehearsals are running from September to the middle of November. It takes up quite a bit of time if you look at it from the outside, but you're only going to a couple of scenes per week, so maybe it's like you're there for an hour and a half or two hours. Then it's like, six hours a week. And then once we're closer to the opening night, it's a lot more time. So, it's definitely a commitment.
TC: How do you balance homework and the play?
SM: I definitely rely on Collaboration, and because I get home at, like, 6:15 I still have a lot of time after rehearsals to do my homework. And there's the weekend. It's not that big of a deal. And if now you're not in a scene, you can take your homework to rehearsals and do it there.
Leave a Comment