TV Preview: "Hawkeye"
Hawkeye, the newest release in a lineup of consistently amazing Marvel TV shows, came out on November 24.
Marvel shows have structured, defined, and made the pandemic just a little less isolating. Sometimes it just took a new episode to get through one more week of bad news and loneliness. The series of shows began with WandaVision, then The Falcon And The Winter Soldier, the Loki show, What If, and most recently, Hawkeye.
There was something in each show for everyone. Wanda's grief and her journey through facing it was raw and relatable for many, especially in the face of the over five million deaths due to COVID-19.
The Falcon And The Winter Soldier delivered a potent message on racism and what it means to be an American. Especially after the summer's Black Lives Matter protests, the show addressed a subject very current and imperative to the country.
The Loki show may seem a little less relatable on the surface level, but the character Loki dealt with questions that every person must face at one point in their life. Self acceptance, discovery and figuring out what it means to be you are struggles that the characters go through.
Hawkeye's first two episodes debuted on November 24 and were free to all Disney+ members. The show is set in the week before Christmas, perfect for the time of year in which the show is debuting.
The first episode opened with the background story of Hailey Steinfeild's character Kate Bishop, the hero who the story centers around. She has never been seen in a Marvel Cinematic Universe movie. Bishop's background in archery, martial arts, fencing and gymnastics is shown before the real story begins and she finds herself in a tangled mess of problems
The show also has Clint Barton, or Hawkeye, watching a musical with his three kids. Long time fans of Marvel will get a few laughs, as the 2012 Battle of New York is put on a Broadway stage with far more cheer than the devastating event warranted. Barton seems to be spending quality time with his family in an attempt to put his past behind him.
However, it comes back to haunt him. Fans should remember Barton's alter ego, the vigilante serial killer Ronin, from Avengers Endgame. Ronin's old suit and sword resurfaced at an underground auction, setting a host of problematic events into motion and connecting the series' two heroes.
By the end of Episode two, viewers had plenty to think about. Hidden identities, a budding murder mystery, and plenty of new, complicated and nuanced characters are sure to keep fans glued to their seats every Thursday night.
The show has an impressive cast, with Jeremy Renner joined by other accomplished actors like Hailee Steinfeild and Florence Pugh. It may be too early to call what Marvel fans will take away from Hawkeye, but judging by the impact of the last four shows, viewers will be impressed.
It is too early to say where the series will put the MCU in the end. But Marvel fans can expect Hawkeye to be one heck of a fun ride.
Leave a Comment
About the Contributor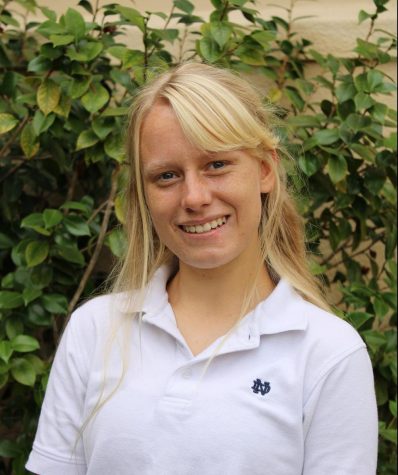 Clair Sapilewski, Managing Editor


Clair Sapilewski is the Managing Editor and is in Journalism II this year. This is her third year writing articles for The NDB Catalyst.

She...