Tri-School Productions: "The Alibis"
The Tri-School fall play, "The Alibis", was a big hit for all those who attended the play at Serra's Gellert Auditorium on November 18, 19, and 20.
"The Alibis" is a comedic murder mystery in which eccentric billionare J. Leslie Arlington, played by Nick Musgrave, is murdered. Several of his employees, family, and rivals are present at the time of his death, consequently becoming suspects for his murder. Nolan Al Mar starred as Detective Casey Neptune, who questioned the characters and forced them into providing an alibi in order to prove themselves innocent.
The play went through ten scenes, including the prologue and epilogue. Detective Neptune listened to all his suspects and their outrageous alibis. After each suspect had given their speech, the detective came to a verdict and with a twist ending, the play reached its conclusion.
Megan Cabral, NDB junior and Tri-School actress, took part in "The Alibis" as Mr. Arlington's maid Estelle and as a reality TV star named Sheila. She played these parts among other Tri-School actors, with Serra Highschool freshman Mason Jang starring as Titus Arlington-Texas and NDB junior Isabella Hildebrand-Vecchia playing Davina Arlington. Together the Tri-School students of NDB, Mercy Burlingame, and Serra High School all form a tight-knit community together in the building of the play.
"My experience was amazing. Our artist staff was very professional and the cast and crew had so much fun putting on the show," said Cabral. "There was such a great bond between everyone involved and it was exciting to be able to perform again. My favorite part was creating strong friendships and feeling a part of an amazing and fun community."
While there is a Tri-School Drama class taught by Lawrence Long at Serra High School, the Tri-School play is its own separate program. Students who wished to participate in the play auditioned for a part in the middle of September, and if chosen, were then asked to return for callbacks later that same week.
"
My experience was amazing. Our artist staff was very professional and the cast and crew had so much fun putting on the show.
— Megan Cabral
Partaking in the play was a large time commitment with rehearsals from 3:30-6:00 PM Mondays through Fridays. It was essential that the students treated their roles with the utmost importance as it was no easy task to perfect their character.
After a long two months of practicing lines and rehearsing scenes, the cast and crew were very well-versed in their part in the play. Everyday after school since September 20, director Lawrence Long would dedicate his time to helping the 28 cast members involved in the play get ready and prepare for their on-stage performances.
Not only were the director and actors proud of their performance, so were the audience members. NDB sophomore Anna Ansari attended the play and was very impressed with the level of skill it took to put on the show.
"I was surprised at how funny it was and how professional it all seemed," said Ansari. "It was impressive to say the least."
"The Alibis" was a success and fans look forward to all of Tri-School's upcoming productions, including the much anticipated spring musical.
Leave a Comment
About the Contributor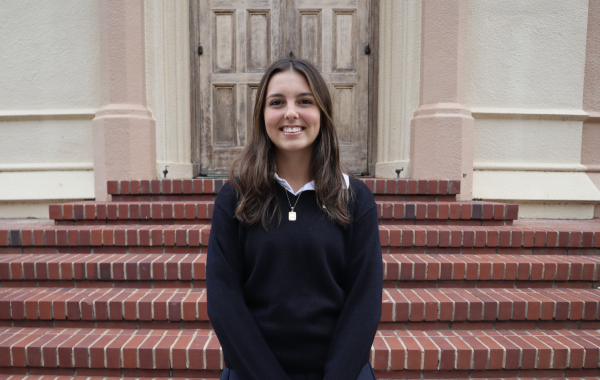 Mia Muzzi, Editor in Chief
Mia Muzzi is a senior at NDB and is in her fourth year of working for The Catalyst. She spent her freshman year as a Staff Writer, then during her sophomore...