NDB launches DEI program with keynote speaker Sister Teresita Weind
On Wednesday, October 6, NDB hosted its first session of the year-long Diversity, Equity, & Inclusion (DEI) program over Zoom. The event featured keynote speaker Sister Teresa Weind of the Sisters of Notre Dame de Namur, as well as speeches from NDB Board member Rod Donaville and I Am Diverse club leaders Karla Aguilar and Ryan Edwards.
The night started off with a prayer centered around the gift of diversity read by Director of Mission and Ministry Amy Jobin. Head of School Linda Kern then introduced the speakers of the night and explained the DEI program to viewers. The DEI series was inspired by the NDB Hallmarks and was developed by the school's Anti-Racism Task Force last year.
"We wanted to build something into the structure of the school's life that would ensure that it was happening throughout the year at several predefined moments, and also would recur annually," Kern said. "So, something that would really be baked into the curriculum, and that is what we've created."
Aguilar and Edwards spoke about their experiences with racism and their work as I Am Diverse leaders and student members of the Anti-Racism Task Force.
"As a first generation Latina, it has been a powerful experience to serve on a task force that includes other students and adults who are people of color. So often have I found it the case that I'm one of the only people of color within a group, which, you know, has sometimes left me feeling afraid and unsure of the validity of my experiences," Aguilar stated. "I think that, in contrast, it has been extremely rewarding to be in conversation with this task force, a group that I know will listen to and value and respect my opinions."
"My hope for this experience and program is that it sparks an interest for change in our younger generations of Tigers, and that as it develops, it becomes a staple of Notre Dame," Edwards added. "Hopefully this helps the students who aren't and will never be affected by these situations have a better understanding of how students like myself feel in a predominantly white institution."
Weind shared stories about growing up as a Black child in a Catholic institution and facing discrimination from peers, teachers, and administrators. She attended St. Dominic School in Benicia, California for elementary school. There she was taught by Sister Robert Miriam in fourth grade, who frequently discriminated against the Black children in her class.
"I received severe and dehumanizing treatment for minor misbehavior that barely raised Sisters' eyebrows when that same misbehavior came from Italian children," she explained. "I got accused of things that I didn't do… One day, Sister Robert Miriam came and got me out of my desk seat and brought me up to the trash can next to her desk and put me in the trash can, and she said 'All you are is trash, so stay there for the whole day.'"
Weind continued to face racism throughout the rest of her education and into her adult life. When she decided to join a congregation, she was rejected from many groups who did not accept Black women. At the time, the Sisters of Notre Dame de Namur had a quota of only admitting two Black people at a time, and so she was not able to join the congregation. She began her religious work at the Sisters of Mary of the Presentation in Illinois and worked with them for ten years. In 1973, she transferred to the Sisters of Notre Dame de Namur, where she is currently the congregational leader.
Weind's stories highlight the importance of anti-racist education and building diverse communities.
Leave a Comment
About the Contributor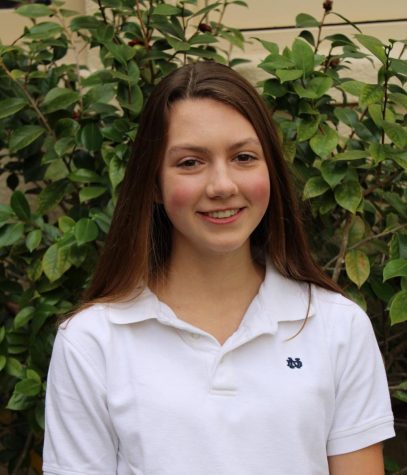 Peyton Daley, Editor in Chief
Peyton Daley is a senior and this is her third year as a Catalyst writer. She served as Arts & Life Editor her sophomore year and Managing Editor her...