Another summer during a pandemic
As it seems that the pandemic is winding down and there is so much hope for an end in the near future, this summer is likely to be a lot closer to a normal summer than last. Last summer, during the height of the COVID-19 outbreak, there was little socialization in order to promote social distancing to slow the spread of COVID-19, but this summer, being vaccinated opens a whole new set of opportunities and hopes for a more normalized summer.
Now, NDB students and staff of all ages have the opportunity to be vaccinated and the CDC is slowly changing masking rules in favor of going back to normal. Letting up on the masking regulations for vaccinated people is a big step towards a normal summer.
With so many more places opening up, this summer does have higher hopes for those who have been fully vaccinated. Being vaccinated enables you to travel out of your county, and potentially travel internationally depending on your desired destination.
This means that more of a traditional summer will take place this year, especially in terms of travelling. A lot of students have travel planned for the coming summer because it has been so long since many of us have gotten on a plane.
"I am excited to visit my family this summer on the East Coast. Because of the restrictions last year, I was only able to see my grandparents in a socially distanced way. I am also very excited for things like concerts and amusement parks to open back up this summer," said senior Taylor Klein.
Phased reopenings of amusement parks like Disneyland and California's Great America plan to increase capacity even more this summer from the small numbers that California has allowed for in the spring. There are also hopes for vaccinated people to be able to attend concerts in late summer, early fall.
"Since the beginning of the pandemic, I have not been able to see most of my family because they live in England, so now that I have gotten vaccinated, I am excited at the potential to spend some of my summer in England. In the past year, I have only been able to talk to my extended family over the phone, so getting to see them in person is going to be a really exciting experience for all of us. I am glad that this summer is going to be more normal, I hope to get to travel a lot, now that my family feels so much more safe to make up for the planned trips my family missed during the pandemic," said freshman Madeleine King.
Getting to see family and friends again is exciting for everyone, especially those who have not seen any of their closest friends since the beginning of the pandemic. Having not seen my extended family since Christmas of 2019, I personally am ecstatic for my family to be fully vaccinated and able to see all of my family safely.
Summer as a whole would typically be a time to just relax and spend time with friends and family. Although last year, most interaction was stripped, meaning that this year, people are very antsy to get to interact with their close friends.
"I am looking forward to being able to go outside and being around other people. I am also really looking forward to being at the beach, although I do not know how swimming is going to work. I am planning on traveling to see my cousins, and I am going to go to Hawaii which is going to be super fun! " said sophomore Amelia Ailanjian.
The overall consensus on campus demonstrates excitement for this summer as public safety has regularly been increasing. Getting to experience the new normal as it becomes once again part of life to go outside and do the things we all used to enjoy, will be the highlight of the next couple months for the NDB community.
About the Writer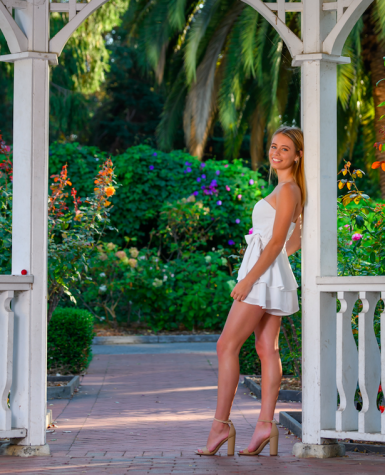 Charlotte King, Staff Writer
As a senior, Charlotte King is a new staff member to join The Catalyst. She hopes to be able to write stories about NDB for the community to enjoy throughout...