Q&A with Tri-School actress Isabella Hildebrand-Veccia
Despite the many challenges of COVID-19, The Tri-School Production was still able to put on a spring show this year: "Shrek: the Musical!" Although different this year, the cast collaborated via Zoom and made the most out of their practices together to put on the best show possible. The audition process included a pre-audition meeting, video submissions, and call backs over Zoom. The musical premiered on May 7 and 8, and was streamed for everyone who purchased tickets. Isabella Hildebrand-Veccia, an NDB sophomore, let The Catalyst know about her experiences in the musical this year.
The Catalyst (TC): How was the virtual audition process and the video submission format different from the regular audition process?
Isabella Hildebrand-Veccia (IHV): For me, I've done a lot of self tapes recently. Just acting for a camera is different from acting on stage since you have to tone everything down a bit and cannot look around as much. It was very different from being on stage, since you have to be a lot bigger on stage.
TC: What were your favorite parts about doing a virtual musical? What were some of the challenges?
IHV: Learning the music was a challenge since you had to learn it on your own, and could not get help from people in your scene. My favorite part was just being in a musical again.
TC: How did you react when you found out that you made it in the musical and got the part of the Sugarplum fairy as well as a blind mouse?
IHV: I was very excited. I kept refreshing the page over and over on the cast list website, and my name was very low down so I was worried I got cut. I finally found my name at the bottom and was super excited to see I made it!
TC: How were the rehearsals and practices together? Was being online difficult for the cast?
IHV: We didn't have a ton of rehearsals online other than music rehearsals. We were able to film in person, so we were just preparing for being together online. We got a lot of the cast-bonding aspect online, but practiced more in-person.
TC: What is the biggest takeaway from doing your first virtual musical?
IHV: Anything is possible. Flexibility is also really important, since we changed the plan of how we were going to film everyday. Being able to adapt to new things and try them is essential.
TC: Would you ever plan on doing another virtual musical? Would you recommend it to others?
IHV: If it's between a virtual musical and regular musical, I would not choose to do a virtual musical, but if it is between a virtual musical and no musical, then I would choose to do the virtual musical!
Leave a Comment
About the Contributor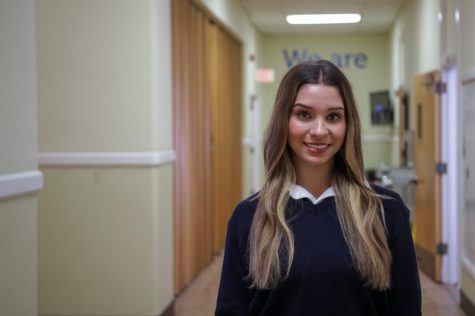 Ava Marinos, Opinion Editor
Ava Marinos is a senior at NDB and is excited for her third year with The Catalyst. She actively participated in the club as a sophomore and junior and...