Hate crimes against the AAPI community on the rise
Ever since the first case of COVID-19 was reported in Wuhan, China, in December 2019, the virus has spread globally, affecting the lives of people all over the world. But with the spread of the virus came an increase in intolerance toward the entire Asian community, especially here in the United States.
Once the virus reached our shores, public rhetoric addressing it was immediately targeted toward the Chinese-American community. From social media users calling it the "Kung Flu", to former President Donald Trump repeatedly referring to it as the "Chinese Virus", it became difficult for the American population to disassociate COVID from China.
As a result, hate crimes against Asian-Americans and Pacific Islanders (AAPI) skyrocketed. Between March 2020 and February 2021, 3,800 hate crimes against the AAPI community have been reported (NBC News). This is a harsh increase from the 2,600 reported between 2019 and early 2020.
The vast majority of the hate crimes were committed against women and the elderly. In February 2020, an Asian woman was physically assaulted on the New York subway by a man who assumed she had COVID. A fellow Asian woman suffered a strikingly similar experience on the subway in Los Angeles within the same month.
Many of the attacks have occurred against the Asain elderly population in nearby San Francisco. In January 2021, an elderly Thai man was shoved and killed by a 19-year-old man from Daly City. In March, a 39-year-old white man committed two separate, unprovoked attacks against elderly Asians in the Tenderloin district within just two days of each other.
In response to the alarming rise in crimes against the AAPI community, a movement called "Stop Asian Hate" has arisen via social media and nation-wide protests. The protests sparked a demand for legislation, which led to the Anti-Asian Hate Crime Bill being passed through the Senate in April 2021.
Finally, the NDB administration also addressed the recent anti-Asian violence in an open letter to the community. "Over the past year, members of the Asian, Asian American, and Pacific Islander communities have been blamed for the pandemic—slander born of xenophobia and ignorance," the letter, sent out on March 19, stated. "We as a community must stand as a bulwark against hatred and bigotry, and welcome and embrace individuals from every background because it makes us better and stronger. An attack on any group of us is an attack on all of us—and on everything we represent."
The NDB community stands in solidarity with the Asian-American Pacific Islander community, especially in such an unprecedented time of adversity, terror and hardship.
Leave a Comment
About the Contributor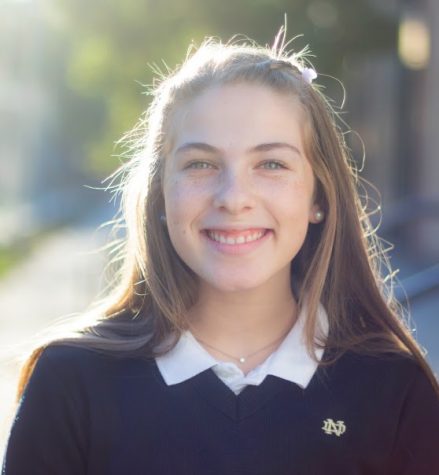 Amelia Kyle, Editor-in-Chief
Amelia has been a member of The Catalyst staff since 2018. She served as the co-editor of the Arts & Life section from 2018-2019, Managing Editor from...