What NDB students did over Easter Break
The choice to travel is a big decision for a lot of students and their families during the COVID-19 pandemic. After being refrained from traveling for so long, everybody has been anxious to take a vacation. As a result, many took advantage of Easter Break to visit family, or have a relaxing vacation at the beach or in their own backyard.
For those who travelled, some popular destinations included Hawaii, Palm Springs, or Lake Tahoe.
Annie Lester, a freshman at NDB, vacationed down in Palm Springs. It was incredibly busy, filled with tons of students on spring break, enjoying the hot desert weather.
"I went on the trip with my family where we played tennis, swam, and so much more," said Lester. "I was also able to visit my family who lives there."
After not seeing her family for so long, Lester had a great time and was grateful for the opportunity to travel. Like Lester, NDB junior Ali Lewis had a good time visiting her family over the break despite their original uncertainty.
"We were a little hesitant to go, but excited to see my grandparents for the first time in person in a long time," said Lewis.
With COVID-19, many family members haven't been able to see each other for almost two years, but were thankfully able to make up for lost time over Easter Break. But for students and families with health risks, the chance of being exposed to COVID-19 while traveling prevented them from the ability to travel.
Traveling for all also comes at the expense of a 10-day quarantine. For Anna Ansari, another NDB freshman, this was too high of a cost. The quarantine rule would have caused her to miss the rest of her volleyball season, including all of her games.
So she and her family cut their Tahoe vacation short, and came home early to adjust to the quarantine rule.
"It was disappointing that we couldn't stay in Tahoe for that long," said Ansari. "But my season was important to me and none of it would've been worth it if I wasn't allowed to play in any of my games."
Cassidy Morris, a sophomore at NDB, also didn't go anywhere because of the implemented quarantine rules. "We did not travel just because of restrictions," said Morris. "And my mom really wants me to go to in-person school."
With such little school left, many students desire to be on campus as much as possible. A 10-day quarantine would eliminate a lot of time that could be spent at NDB instead of in online classes.
Despite difficulties, Easter Break 2021 was a wonderful opportunity to take a break from school and spend time relaxing at home or on vacation with family.
Leave a Comment
About the Contributor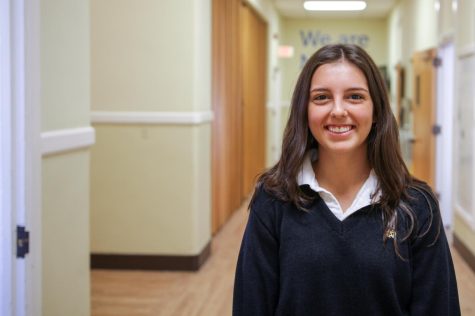 Mia Muzzi, Managing Editor
Mia Muzzi is a junior at NDB and is the Managing Editor for The Catalyst. She spent her freshman year as a Staff Writer, then during her sophomore year...