Tiger alumnae talks about women's rights and her life after NDB
Jennifer Salma graduated from NDB in 1988 and still maintains her Tiger pride to this day. She leads a very successful life, living with her family and helping out in her community. Salma covered many fields of work and is no stranger to the inequality and discriminations that women must face daily in the workplace.
Salma attended college at UC Santa Barbara and got a degree in political science with an emphasis on public service. She then continued onto law school and got a degree in San Francisco. She has always enjoyed challenging herself academically and while still in school, she took many honors classes and met her best friends while doing so.
After graduating from UC Santa Barbara, she worked at an internship in D.C for Democratic Congressman George Miller. She loved D.C. so much that she continued to live and work there for a few more years. However, she was also interested in seeing the world, so she backpacked around Australia, New Zealand, and Southeast Asia for a year before coming back to San Francisco for law school. Public service was her passion and she worked in that area up until the time she had kids.
Salma feels that her family and kids are her greatest achievement and she is very proud of who they have become.
"It's challenging to raise children and have a family that is functional and together, but we all love each other and we work through all of our difficulties," said Salma. "Just accepting my kids for who they are and really helping them thrive to become the best person they can be is what I consider my greatest achievement to be, so far."
"
Oftentimes I was at a meeting with 20 men, and I was the only woman sitting at the table."
— Jennifer Salma
Due to her work involvement and womanhood, she had experienced gender bias in the workplace.
"Oftentimes I was at a meeting with 20 men, and I was the only woman sitting at the table," said Salma. "And that was intimidating."
Now, in 2021, Salma still believes there is a lot of change to be made for women's equality but there has been progress made.
Salma agrees that women's equality is still a pressing matter.
"There's a lot more awareness about females and also the value that they can add to an organization or the skills that they bring that might be different to the skills that males bring. And I think that people understand now that women in the workplace, can be just as valuable if not more valuable in certain areas," said Salma. "I think that there's still a lot of undervaluing going on for women, with regard to pay and things like that but I think there's been a lot of changes."
Salma brings a lot of pride to the NDB community. With this month being National Women's History month, it is especially appreciated for all that she has done and will continue to do throughout her future.
Leave a Comment
About the Contributor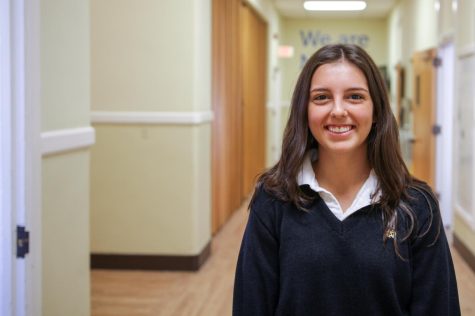 Mia Muzzi, Managing Editor
Mia Muzzi is a junior at NDB and is the Managing Editor for The Catalyst. She spent her freshman year as a Staff Writer, then during her sophomore year...