Cross country prepares for upcoming meets
At the end of January, the official NDB cross country season began. However, with CCS and all WBAL meets cancelled, this season will look very different for the team in comparison to the last one.
Rather than participating in meets with dozens of other schools, NDB will run against only one other school at a time in scrimmage-like races.
There will be no more than 14 runners total on the course at a time, since each team consists of seven. The courses will also not be standard distances since most race venues are not available for organized gatherings. Instead, runners will race shorter distances at "home" courses on school campuses.
"Cross country was one of the few sports initially able to compete in the purple tier of COVID-19 restrictions following the holidays, so based on that, we began planning dual meets with teams in our county or a bordering county," said NDB coach Kristi Rossi. "I participated in Zoom calls with other WBAL coaches to figure out what teams would be interested in in-person racing, and we looked for teams compatible to race."
So far, the team is hoping to race against a few other local private schools in early March. The meets are scheduled for March 6 against Mercy Burlingame, March 10 against Notre Dame San Jose, and March 17 against Pinewood, although all plans are tentative.
"I'm feeling a bit nervous since I've never done a race before, but also excited because I know everyone's going to be there and it's going to be cool because it'll be my first experience," said freshman Annette Henderson.
This season is shorter than usual since it was pushed back from fall, and now has to end before spring sports begin. Practices started on January 25, and the season ends on March 27 (CIF). Many NDB runners participated in pre-season workouts, which happened twice a week from September until the start of the season.
"We've been doing a lot of hard training, so I think that we will be prepared," said sophomore Kate Davidson.
Cross country is also considering participating in a larger virtual meet. In this case, each school will record its runners times separately and will compare online. Although this offers competition against more runners, being in-person gives runners the motivation and endurance they need for their race.
"I definitely think running with others makes me automatically faster, because I know what pace I should be going at, and I know if I'm going too slow or I'm going too fast and exerting myself too much," remarked Henderson.
While it's not the season anyone would have hoped for, NDB cross country is looking forward to being able to get out and race.
"My goals are for the girls on the team to finally have an opportunity to let their hard work pay off through racing," Rossi added. "Many girls on the team have been participating in pre-season training since September, so races would enable them to push themselves in a competition setting."
Leave a Comment
About the Contributor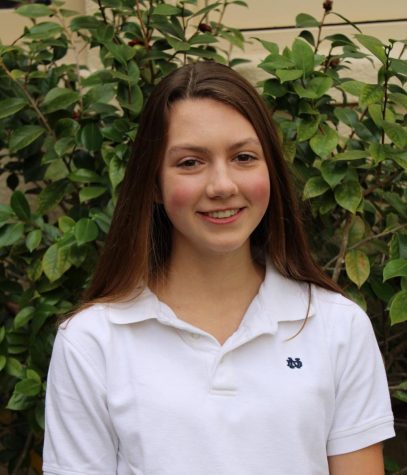 Peyton Daley, Editor in Chief
Peyton Daley is a senior and this is her third year as a Catalyst writer. She served as Arts & Life Editor her sophomore year and Managing Editor her...