Julio & Norma: How a 60-year love story came to be
Long before they were my grandparents, they were Julio Ortiz and Norma Morales, a young Puerto Rican couple who met in a dance club in New York in 1960.
Julio, a New York native, was introduced to Norma at the club by his older brother, Bobby, who was Norma's brother-in-law. "I saw a very, very beautiful looking girl in a pretty red dress," Julio said about his first impression of Norma. "She was very attractive, but I found her to be a bit standoff-ish at first. She didn't seem interested in me."
Norma, a native Puerto Rican visiting her family in New York, claims that she was interested in Julio the second she laid eyes on him.
"[Julio's brother] took me out dancing at a club one night. So, I'm in this dance place. And I see these two guys coming in at the entrance, and one of them is saying hello [to everybody] table-by-table. Everybody knows him," Norma said. "And he's laughing, and they're all hugging him, and my eyes keep following him."
Norma recounted the exact moment they met. "I was attracted to that guy. I kept following him table-by-table. Suddenly, he was walking to the table I was at with Bobby and his friends. Bobby introduced me to him as his brother, and I remember thinking, 'Ooh, that's his brother! How exciting.'"
According to her, Julio came over to her and asked her for a slow-dance. "He was talking to his brother and said [jokingly] that he was doing a favor by dancing with me." They danced together the entire rest of the night. "At the beginning of each song, another guy would come up to ask me to dance, and [Julio] would say, 'No, she's dancing with me.'"
While neither of them wanted to admit it, they were both head-over-heels for each other. "The next day, I called her up because I'd thought about her all night," Julio recalled. "So, we went to the movies with my brother and his wife [Gloria]. She talked only to Gloria for the entire movie."
Julio got up in the middle of the movie because he felt like he was being ignored. "He didn't come back for almost the entire movie. I was so mad," she said. "He said that I was talking too much and not paying enough attention to him."
Norma explained that what he had perceived as her being "standoff-ish" was actually just her following traditional Puerto Rican customs. "I was raised in Puerto Rico, where everybody followed the old-fashioned way, so the guy always made the first move. It was up to him to talk to me first."
After talking over dinner, Julio and Norma decided that they really did like each other after all, and wanted to continue seeing each other. But there was a slight problem: Norma had to return home to Puerto Rico to finish school.
"[Before she left] I asked her if I could write to her," Julio said. "So I was writing to her and writing to her, but I didn't realize that since I was writing to her in English, she had somebody else read my letters."
Norma spoke very little English, so Julio was forced to write to her in Spanish. While he grew up in a household with two Puerto Rican parents, only his mother spoke in Spanish while everyone else responded to her in English.
In December 1960, Julio went to Puerto Rico to visit Norma. "We went out a few times, always chaperoned. We went out with her brother or with [Norma's nephew] Guillo. We always had somebody who was a chaperone." In Puerto Rico, it was improper for unmarried couples to go out unchaperoned, which Julio was not used to due to his upbringing in New York City.
"Eventually I told her, 'I want to talk to your father about asking for your hand,'" Julio continued. "I was going to propose on Tuesday the 13th, but she told me not to because there's a thing in Puerto Rico called Martes Trece which is a day of bad luck."
In many Spanish-speaking countries, a common saying is "Martes y trece, ni te cases ni te embarques", which means all should avoid marrying or travelling on Tuesday the 13th. This was yet another cultural difference that Julio was not used to.
After proposing on a different day, Julio went back to New York while Norma finished her education. Their engagement lasted until July 1962, when they were married in Santurce, Puerto Rico.
"The day before the wedding, my mother came into my room and told me, 'If you have any doubts about the wedding, you don't have to get married tomorrow,'" Norma said. "That night, I had the thought of him meeting somebody else, and it hurt me. So that's when I knew that this was it. That he was it."
Julio and Norma moved to New York after the wedding and had two daughters, Vanessa and Melissa. The family eventually moved to Sunnyvale, California where Julio worked as a technical writer and Norma was a homemaker. They are now the proud grandparents of Brandon (20), Amelia (me, 17), and Reed (13), who all know them as Yaya and Lalo.
As their grandchild who has grown up very close to them, I admire the profound mutual love and respect for each other that Julio and Norma share. I sincerely believe that they are a living example of true love.
"When we got married, my brother told me that he gave it six months [for the marriage to last]," Julio said. They will be married for 59 years this July.
About the Contributor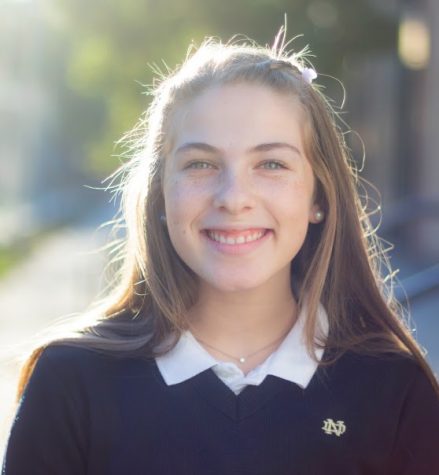 Amelia Kyle, Editor-in-Chief
Amelia has been a member of The Catalyst staff since 2018. She served as the co-editor of the Arts & Life section from 2018-2019, Managing Editor from...